Ecommerce in India: Handloom & Handicraft Market Research & Turnover
Posted by Ekta Singh / October 25th, 2018 / No responses
The Indian e-commerce industry has been on an upward growth trajectory and is expected to surpass the US to become the second largest e-commerce market in the world by 2034.
The e-commerce market is expected to reach US$ 64 billion by 2020 and US$ 200 billion by 2026 from US$ 38.5 billion as of 2017.
With growing internet penetration, internet users in India are expected to increase from 481 million as of December 2017 to 829 million by 2021.
Rising internet penetration is expected to lead to growth in eCommerce.
India's internet economy is expected to double from US$125 billion as of April 2017 to US$ 250 billion by 2020, majorly backed by eCommerce.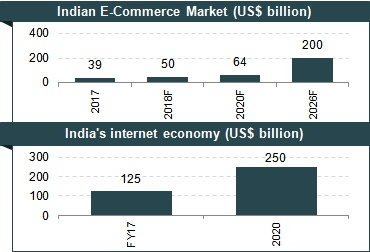 Source: https://www.ibef.org/industry/ecommerce.aspx
According to a study done by Indian Institute of eCommerce, by 2021 India is expected to generate $100 billion online retail revenue out of which $35 billion will be through fashion e-commerce. Online apparel sales are set to grow four times in the coming years.
In India, cash on delivery is the most preferred payment method, accumulating 75% of the e-retail activities.
Government initiatives
Since 2014, the Government of India has announced various initiatives namely, Digital India, Make in India, Start-up India, Skill India and Innovation Fund. Some of the major initiatives taken by the government to promote the e-commerce sector in India are as follows:
The Government of India has distributed rewards worth around Rs 153.5 crore (US$ 23.8 million) to 1 million customers for embracing digital payments, under the Lucky Grahak Yojana and Digi-Dhan Vyapar Yojana.
The Government of India launched an e-commerce portal called TRIFED and an m-commerce portal called 'Tribes India' which will enable 55,000 tribal artisans get access to international markets.
In order to increase the participation of foreign players in the e-commerce field, the Indian Government hiked the limit of foreign direct investment (FDI) in the E-commerce marketplace model for up to 100 percent (in B2B models).
Total handloom handicraft e-commerce business turnover in India
As per estimates in Feb 2017, the sector's market size in the country is around $5 billion annually.
eCommerce present a great marketing platform to the domestically produced products. The total worth of the Indian handicraft industry across the globe is the US $ 100 billion. In the world's handicraft, a market share of India is 1.2%. Carpets, woodware, bamboo products, marble sculpture, bronze sculpture, leather products, paintings, zari goods, embroidered goods and jewelry are few of the most desired handicraft products from India.
The Department of Handlooms and Textiles, Government of India, has tied up with nine e-commerce players and 70 retailers to increase the reach of handlooms products in the Indian market.
Which are the top e-commerce website engage in handloom & handicraft and their turnover
In March 2018, Textiles ministry engages 21 e-tailers for handloom items.
As on December 31, 2017, these web portals had generated handloom sales of Rs 9.54 crore in the current financial year. This figure was Rs 7.07 crore in the corresponding period of 2016-17, and Rs 1.06 crore in 2015-16. Thus, more than Rs 17 crore of sales of handloom products have been generated since 2015, the minister added.
Amazon India expanding its footprint in India's Handloom Industry has now added pure handloom and handicraft items of Weavesmart – an online handloom store supported by the Government of India – on its platform. Weavesmart stores more than 20,000 products which will now be made available to millions of Amazon customers, as per the media statement.
Top e-Commerce Websites:
1. Amazon India
2. Craftsvilla – Craftsvilla Handicrafts Pvt Ltd, the holding company of Crafstvilla.com, posted a revenue of ₹37 crore in FY2016 with a loss of ₹119 crore.
3. https://www.handcraftsofindia.com/
4. https://www.weavesmart.com/
5. https://authindia.com/ – Estimated Revenue $ < 1M
6. http://gaatha.com/ – - Estimated Revenue $ < 1M
7. https://gocoop.com/ – Estimated Revenue – $4.4M
8. https://silkrute.com/ – Estimated Revenue $ < 1M
9. https://www.ishippo.com/
Rest revenue stats have been taken from owler.com
Conclusion
As per my observation, the e-commerce market of handloom and hadicraft industry is not standing out yet. There are lots of opportunities for the e-retailers. The marketers should think about to take this out globally. Please refer to this data to see country wise share of handicraft export: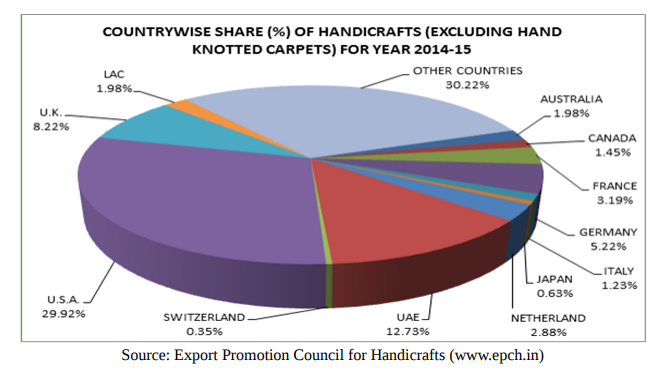 Source:
http://www.fibre2fashion.com/news/textile-news/textiles-ministry-enlists-21-portals-for-handloom-sales-240962-newsdetails.htm
https://inc42.com/buzz/amazon-india-backs-govt-of-india-backed-weavesmart/
https://www.thehindubusinessline.com/info-tech/handicraft-exporters-take-ecommerce-route-to-tap-domestic-market/article6905096.ece
https://inc42.com/buzz/amazon-india-backs-govt-of-india-backed-weavesmart/
https://www.quora.com/What-is-the-best-website-to-buy-Indian-handloom-and-handicraft-items
https://www.livemint.com/Industry/N9i3R5ExZpSBIhtuS0CCQJ/Indias-fashion-eretail-market-to-touch-35-bn-by-2020-Goo.html
http://brlp.in/documents/11369/1132127/Report+on+Analysing+the+Scope+for+JEEViKA+to+Sell+
HandloomHandicraft+Product+Online.pdf/412a20fb-78a3-4e6b-8c74-ac4b3c5cb170
https://www.ibef.org/industry/ecommerce.aspx
https://en.wikipedia.org/wiki/E-commerce_in_India#Market_size_and_growth