Product Description

Databases are an important constituent of every business activity due to the necessity to manage data, information, customer records and other such requisite files. However, handling databases are a critical task for users be it for any platforms and has been a much time consuming job. The tasks like database creation, database updation and database management is often a severe headache for numerous enterprises irrespective of their nature and size of business. SharePoint users were also suffering from this problem for a significant amount of time. They were also unable to manage, handle and create databases in a smooth manner for their SharePoint sites.
However, this was a situation that was present earlier and the current scenario has completely changed with the introduction of this Query Viewer Basic web part of SharePoint developed by Velocity. With this SharePoint web part, you can quickly fetch data from the external databases like My SQL and SQL Server through remote servers which can then be shown on a central list of Paged data on a SharePoint site. In this way, this SharePoint web part saves the precious time and efforts that are required for the creation of a new table or database. Let us understand this SharePoint web part through the help of various salient features.
Salient Features of this Query Basic Viewer Web Part:
1. Supports easy customization and management.
2. Quick Fetching of records from external databases such as My SQL and SQL Server.
3. No need for creating a new database or table every time.
4. Saves lot of user time and efforts.
5. Supports seamless change in your website appearance and layout.
6. Compatible with SharePoint versions of 2010 and 2013.
7. Provides facility to export query in Excel and CSV format.
How this SharePoint web part works for you?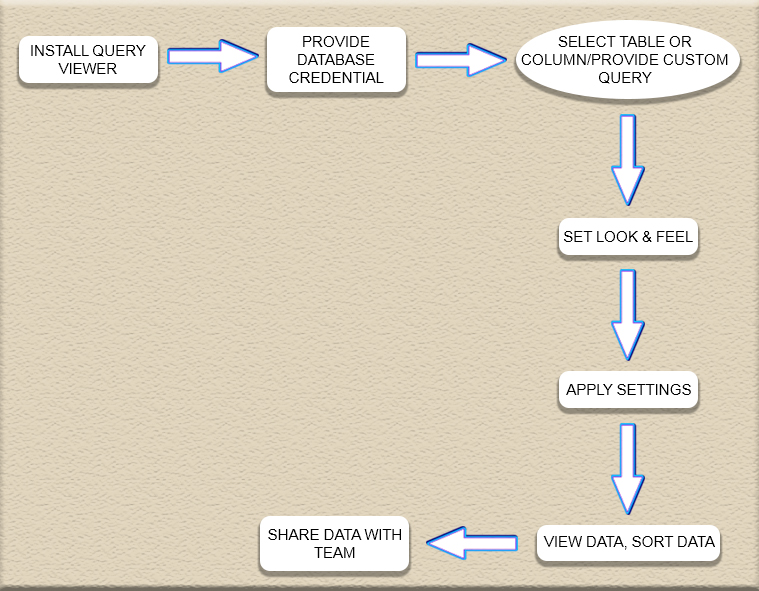 The working of this SharePoint web part is very simple and can be easily explained with the help of this work flow which is shown here. Let us understand its working in simple steps as mentioned below:
1. You need to first install this Query Basic Viewer web part on your SharePoint site.
2. Now, you need to login with your database credentials.
3. It is time to select the required table/column and provide custom query for the same.
4. With this, you can customize the look and feel of your database.
5. You need to apply the desired settings on your database.
6. With this step, you can effortlessly view and sort your data.
7. Finally, you can share the customized data with your SharePoint team.