Product Description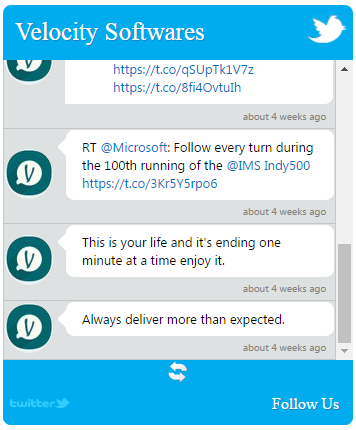 SharePoint is a popular web application platform that has made content management, business collaboration and document sharing tasks much easier for corporate individuals. It has become the undoubted choice for numerous business owners due to its various features and functionalities. Our web development company, Velocity which also specializes in SharePoint development and master page customization services has taken the functionality of SharePoint web development platform to a new level with this Twitter Feed SharePoint web part. It has helped in bringing the twitter feeds from specific handles to your SharePoint site for unmatched social connectivity of your business. This web part is an amazing integration that has brought this Twitter social media platform to your SharePoint site.
Moreover, considering the huge customer base and global reach of social media sites like Twitter, it is definitely the opportune moment to integrate this Twitter Feed web part into your SharePoint site. Explore more about this Twitter Feed web part by taking a quick glance below.
Why do you need our Twitter Feed SharePoint web part?
1. Ensures connectivity of your business with Twitter accounts.
2. Provides greater social engagement that could help you improve business fortunes.
3. Offers timely alerts and notifications from your concerned Twitter profiles.
4. Designed to work with SharePoint 2013 in a seamless manner.
5. Provides tweets from three timelines- User Timeline, Home Timeline and Mention Timeline.
6. Comes with a simple user friendly interface and web design.
What makes this Twitter Feed SharePoint webpart outscore among its competitors?
Although, there are other competitors against this Twitter Feed SharePoint web part, but it has created its own niche place due to its wonderful features. Let us take a look at them which are described below:
1. Facility to show/hide Twitter display picture from the web part.
2. Displays latest Twitter feeds to all the team members using this web part. In this way, keeps everyone in the team informed about the latest events and updates in an organization.
3. Gathers Twitter Feeds from three basic timelines such as User Timeline, Home Timeline and Mention Timeline. Facility to show/hide user's image and description on the widget.
4. Showcases latest Twitter feeds through the help of Manual Refresh icon button.
5. Facilitates simple installation and configuration process. User just need to install this Twitter Feed web part on their SharePoint site and need to configure their Twitter handles with the same for regular tweets.
6. Can be used with a non technically skilled individual.
7. Take a tour down below to check out the various screenshots to understand the features and functionalities of this Twitter Feed SharePoint web part.