How to Increase Visibility Using Social Media Optimization?
Posted by Nitin Jain / January 12th, 2023 / No responses
Any marketing strategy now needs to include social media. A firm or brand can use it as one of the best means available to increase visibility, drive web traffic, and engage with its target audience. Additionally, having a strong social media presence is essential for success.
Brand recognition increment is possible with social media optimization. It increases conversions and delivers you followers and subscribers. Utilizing the suggestions in this article, you can raise user engagement, and brand exposure, make your content viral, and expand your business's reach. Social media is for gathering news, gathering important data, interacting with others, and creating communities. To spread the word about your brand, you might target people who are from different fields.
Social Media Optimization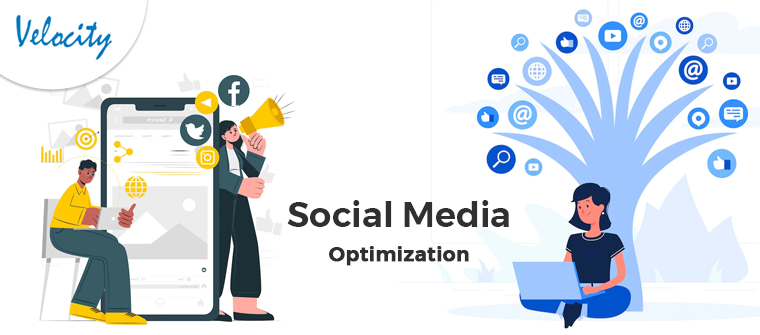 The method of enhancing your social media postings or your entire social media strategy is social media optimization. Furthermore, it is to get better outcomes, such as quicker follower development, higher levels of engagement, more clicks or sales, etc. Additionally, the use of numerous strategies and procedures with varying levels of complexity and scope can is usable for social media optimization, including:
Simple adjustments to each post, such as adding a compelling title or selecting a more attention-grabbing image
Improvements on a high level, such as changing the social media tone of voice for your brand
In any instance, performance analysis, research on the target audience and competitors, and/or information from other online sources should be the foundation of social media optimization.
Strategies To Gain Visibility on Social Media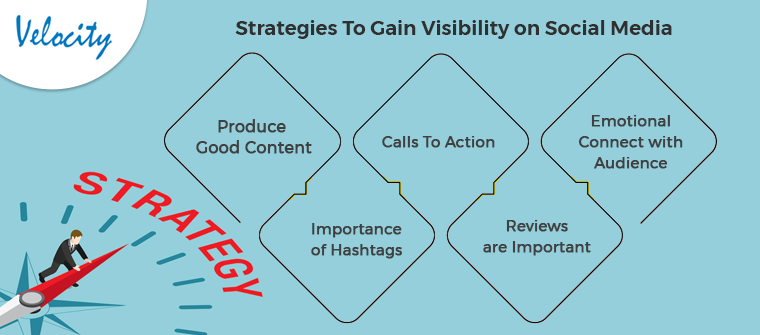 It's important to stick to a plan if you want to get seen on websites like Instagram or Facebook. The key is to do it carefully and properly rather than by producing a lot of information. The secrets to increasing your presence on social media are below.
Produce Good Content
The foundation for any Facebook, Instagram or other social network profile's success is the production of high-quality content. Therefore, you must take care of both the texts and the pictures, photos, or videos.
In addition to conveying information, text must be carefully written if it is for use. To convey professionalism, grammar and spelling are crucial. If you're going to employ pictures, photos, videos, or any other audio-visual components, they need to be of high quality. Moreover, the content has to be intriguing and attention-grabbing. Every piece of content shared on networks needs to be entertaining, helpful, or visually appealing for the readers.
Importance of Hashtags
Social media posts using hashtags encourage user interaction. To increase user interest in your postings, you might utilize well-known hashtags that are relative to your content. Users who are looking for information can utilize hashtags to find all the postings that are relevant to them. Moreover, this is a fantastic content marketing tactic that includes your work in the library of content that visitors check. Your content gathering will be through users, who will then begin a variety of interactions.
Further, on social networking sites like Twitter, Instagram, Facebook, etc., you can select recommended techniques for hashtag creation. A broader audience might be coming to your business, and you may have a chance of trending on social networking sites. Also, this is a clever strategy for generating immediate user interaction and brand recognition.
Calls To Action

The user gets instructions on what to do next via a call to action. To entice the user to click on it, it is frequently presented as a button or text and is strategically inside the information. A call to action could ask a visitor to download a file, watch a video, or sign up for the website. To make it clear to the user what to do, the message should be direct and precise.
Reviews are Important
Your content calendar should include reviews. Reviews, of course, are more persuasive to a potential customer than a company that only centers on itself. The majority of customers read several reviews before making a purchase, which makes expertly written evaluations and testimonials interesting on social media.
Emotional Connect with Audience
Any firm wishing to become more visible on social media must make an effort to relate to and understand the general audience. Also, to address their problems, needs, and other issues, one must make an effort to comprehend them. Moreover, to do this, it is crucial to demonstrate that a group of individuals who care about the following is working behind the scenes on social media. A smart strategy to establish a rapport with the public is to communicate in a casual, welcoming manner and engage with users.
For any business looking to raise its profile and boost sales, social networks are a crucial component. To do this, though, you need to build a plan for how you'll produce high-quality content and then invest the time and energy necessary to make that plan a reality.
Wrapping It Up
In this article, we have been discussing the various methods which will help in improving your online business visibility. Also, at Velsof we provide website development services using PHP and other technologies like Laravel, React, and other web technologies. For the development of the apps for your Online business, you can connect with us at inquiry@velsof.com.