Checklist for Picking the Best eCommerce Development Company
Posted by Nitin Jain / November 17th, 2022 / No responses
eCommerce has altered the retail landscape by allowing established companies to connect with niche markets and close more sales. The eCommerce industry is now flourishing, with estimates stating that by 2022, global online retail sales will total $6.54 trillion. Every brick-and-mortar retailer, big or small, is attempting to go online with an eCommerce portal as the popularity of eCommerce rises. A few advantages of online sales are as follows:
Increase Your Audience
Bring in new clients
Experiences That Are Customized
Coupons, Deals, & Discounts
Personalized Communications
Reduced Operational Costs
Constant Availability
However, it's not as easy as it seems to start up and maintain a profitable internet store. To make sure the long-term success of an online business, you must deal with a number of issues, including an aesthetically pleasing design, a flawless user experience, regular upgrades, bug fixes, and support. This is where a trustworthy eCommerce web development firm is required!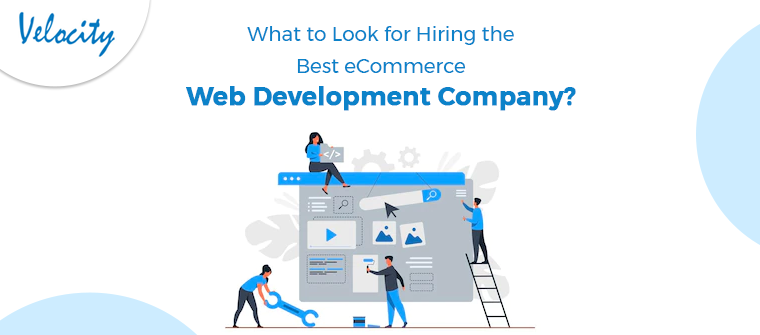 What to Look for Hiring the Best eCommerce Web Development Company?
The ideal development partner guarantees you'll always receive the top outcomes in addition to building your web store in accordance with your unique specifications. But with so many web development firms available, picking the best one may occasionally be difficult. Here are some elements that you should consider in order to facilitate the decision-making process: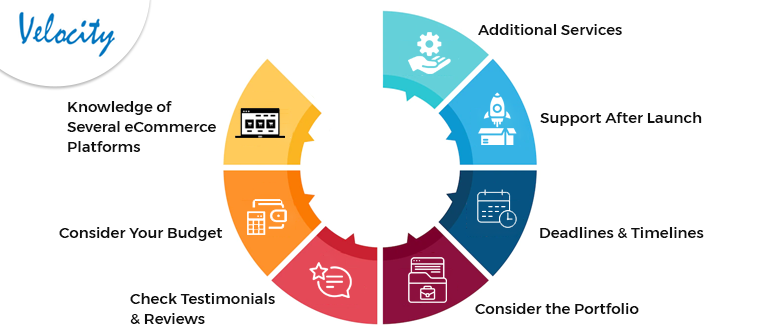 Knowledge of Several eCommerce Platforms
A regular website and an online store are very different from one another. A standard website provides consumers with important details about your company, whereas an eCommerce website handles payments and transactions. It includes several features, including a wish list, beautiful product galleries, various payment methods, and shopping carts.
Find a web development business that specializes in systems that are tailored for eCommerce, including PrestaShop, WooCommerce, Shopify, Magento 2, and OpenCart. Building eCommerce features will encounter certain hitches for businesses that lack experience in creating practical, user-friendly, and secure eCommerce solutions, which will ultimately result in a waste of time, money, and effort. Hire a business that specializes in developing eCommerce websites on your preferred platform.
It's all about the money, whether it's custom web development or eCommerce development. Every need of your online store should be able to be satisfied by your possible eCommerce web development business without going over budget. It does not imply, however, that you must sacrifice the caliber of your work. Find out more, compare them, and choose the one that meets all of your requirements, including your spending limit, needs, and the services they offer.
You should do what every business owner does and set a budget in advance for your project. The estimate will serve as a useful point of departure for discussions with the agency. This implies that you can increase the budget further in accordance with finding a suitable eCommerce development Company.
Check Testimonials & Reviews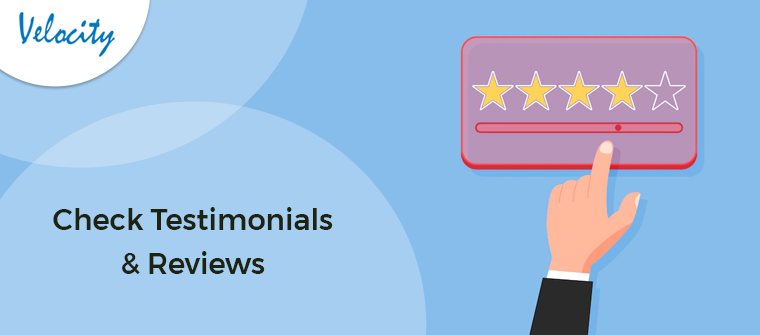 Reviews and recommendations from previous customers are a terrific approach to confirm the reliability of an eCommerce web development company. They assist you in learning about the experiences of previous customers so that you can assess the company's dependability and determine whether or not you should work with the agency.
If at all possible, look into a certain eCommerce web development company on independent review sites. It might be the appropriate fit for you if the majority of clients praise the business for its technical expertise, quick turnaround, and proactive communication. In other words, choose the company that has received more favorable ratings.
No need to travel because the portfolio speaks for itself! You may learn a lot about how skilled the company's developers are at developing eCommerce websites by looking at actual examples of work they have completed in the past. You may also discover how many online stores like yours the agency has successfully built in the past. Check to see if their design patterns match what you are expecting.
The trick is to look past the screenshots of the company's home page that are displayed in the portfolio. Visit every link and browse the actual internet stores rather than just admiring the designs. Examine their user interfaces' sensations and the quality of the user experiences they provide.
Money is the time! Every eCommerce web development firm uses diverse processes and ways to streamline the project and complete it on time. Discover the company's development process to assess how well-organized it is. The likelihood that the business will complete your project within the allocated time period is great if the process is clearly established.
Time-to-market is a crucial issue to take into account if you need to launch your eCommerce website quickly because you don't want to have to wait a full year. Employ a web development business that offers a guarantee that your project will be finished by the deadline. Keep in mind that project extensions frequently result in a sharp increase in development costs.
Once it is operational, your online store will need ongoing upkeep. You must keep your eCommerce site up to date with the most recent web development technologies in order to prevent any vulnerabilities as a result of the constant release of new upgrades. It is crucial to inquire about post-launch assistance and maintenance from the developers.
After your online store has launched, the eCommerce Development Company you choose to work with should be able to offer the necessary maintenance and support. Employ a company that can handle all of your future requirements and quickly resolves any technical problems. Verify the firm's post-launch support pricing as well.
When deciding whether to hire an eCommerce web development service, you should adopt a longer-term outlook and a wider lens. In order to address your company's crucial areas, you may need to engage more professionals in addition to a talented development team.
These experts include front-end developers,  SEO gurus, and experts in UI/UX design. Your operational headaches would be reduced if you worked with a single vendor who provides all these services in large quantities. As a result, you are free to concentrate on your main business and increase your earnings.
Conclusion
You cannot undervalue the significance of selecting an excellent eCommerce web development agency for your business, regardless of whether you are new to the eCommerce game or currently operating a physical and-mortar retail store. Your project won't ever be released if the wrong development partner is chosen. You can choose the best web development business to match your eCommerce goals within your budget if you use the tips above.