Business Benefits and Features of Magento PWA Every Merchants Needs To Know
Posted by Nitin Jain / October 27th, 2022 / No responses
One of the technologies that have received the most attention in the IT industry is progressive web apps. They are strong solutions that have had a significant impact on the business sector. With a set of tools used to build web stores that function like applications, Magento has accepted this technology and assisted the developers. With the use of this technology, eCommerce companies will be able to take advantage of the useful functionality provided by PWA capabilities. Any mobile browser may progressively load and launch PWA applications, which provide an experience similar to that of an app.
Magento PWA Development
With the release of additional PWA Studio features in 2018, Magento has continued to be a platform of choice for online shops and has grown in feature richness. It helps to enhance conversions across all platforms and devices and provides online retailers with a seamless mobile experience for their stores.
Magento PWA development enables you to generate an app icon in place of distinct websites and apps for iOS and Android. Here are a few things you should be aware of before you choose a Magento development company to make use of these robust capabilities.
Magento PWA Studio Features Include:
Contemporary component architecture increases the commercial prospects for extension resellers.
Create and control all channels and user interfaces using a single code base.
tools to set local preferences and modify the content.
Create specialized developer tools to boost productivity and expedite prototyping.
Deliver relevant CMS theming, creative commerce, and a user-friendly interface.
How May Magento PWA Boost Your Online Store?

M-commerce has contributed to an increase in internet sales. And by integrating the newest trend into its platform, Magento has made a significant advancement. While the future success of your company depends on the quality of your products, in this digital-first age, survival alone is not enough.
Today, giving your consumers a worthwhile overall experience is much more essential. They want a simple and comfortable online purchasing experience. They don't want to wait many seconds before they can fully load and properly see the things on your website or mobile app.
Thus, lengthy gloomy apps are no longer acceptable. One of the characteristics that clients seek from their online purchasing experience is offline accessibility. Because of this, Progressive Web Apps (PWAs) are taking center stage. Progressive Web Apps, or PWAs, have gained popularity in addition to web browsers and native apps due to their engaging user interface and responsive design.
As a result of adopting this technological development, Magento is now a PWA platform. Developers will have access to a variety of tools through the Magento PWA Studio to create online stores with performance similar to that of an app.
Let's examine the advantages of utilizing Magento PWA for your company.
Ready? Let's start now!
Benefits of Magento PWA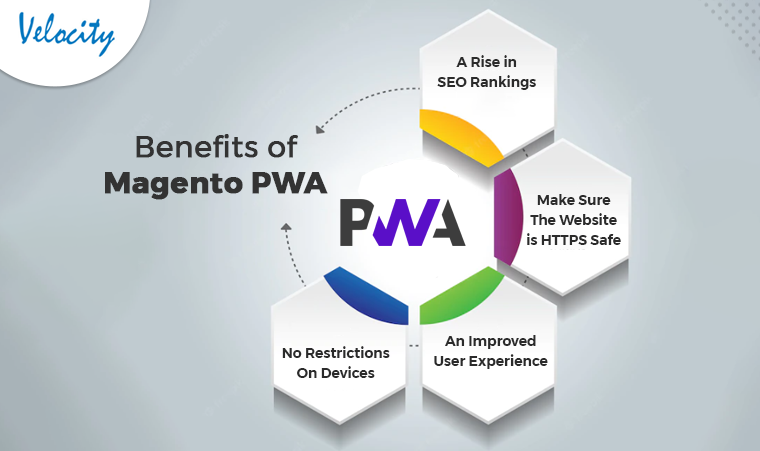 Among the advantages provided by Magento PWA are:
One of the main advantages of Magento PWA is that it has built-in SEO tools that aid companies in increasing conversion rates. It ensures that your app is properly optimized and easily found. Additionally, Magento PWA gives much more than what traditional SEO does.
The JavaScript of a Magento PWA site is crawled by major search engines like Google similarly to other traditional responsive websites. To increase your Magento PWA's SEO, you must, however, take the following precautions.
Make Sure The Website is HTTPS Safe
To increase your website's visibility to Google crawlers, make sure it is configured to be social and indexable with a cache-first networking browser.
An Improved User Experience

The Magento PWA combines the advantages of both websites and native apps. Thus, it combines the benefits of both fast web browsing and the characteristics of mobile applications. By providing performance improvements like these, Magento PWAs improve the user experience.
Quicker loading time
Flawless optimization for all devices
Offline support and capability
Using push notifications
Choices for quick and reputable payments
Affordability
eCommerce business owners believe it costs a lot to construct a Magento PWA. With Magento PWA, you may expand your business without making a big financial commitment. You may create a single application that functions flawlessly on desktop computers and mobile devices by using Magento PWA. Therefore, you are effectively saving a large sum of money that you may otherwise have spent on separately developing a website and a mobile application.
No Restrictions On Devices
Customers can use their preferred devices to access your store. Your consumers won't be restricted to a single browser or device because Magento PWA is developed using web standards like HTML, CSS, JavaScript, and Web Assembly.
All platforms, smartphones, and web browsers are compatible with Magento PWA without any issues. The apps for Magento PWA don't require downloading or installation like those for conventional applications. They can be opened straight in a browser or put on your smartphone's home screen.
Reduced PLT and Offline Mode
According to Google statistics, even a second of page loading time can significantly reduce conversion rates by up to 20%. This means that a slow-loading eCommerce website could harm your company.
A homepage should ideally load completely in no more than two seconds; anything longer will cost you visitors, conversions, and thousands of dollars.
Fortunately, you may reduce the amount of time it takes for your eCommerce store's pages to load thanks to the Magento PWA's intrinsic architecture (PLT). Additionally, PWA allows encrypted connections over HTTPS, safeguards data, lowers network traffic, and supports offline operation.
Conclusion
Using Magento PWA is an excellent way to ensure your business has a robust storefront that runs as efficiently as possible regardless of the device or platform your customers use to access it. You can invest in a single codebase and still provide a smooth user experience with Magento PWA.