How Mobile App Development Helping eCommerce Businesses?
Posted by Nitin Jain / January 24th, 2023 / No responses
Shopping is the part of modern lifestyle. Even brand lovers visit various countries to fulfill their urge of shopping. Whether, if we talk about daily life, shoppers do not have enough time to visit offline shops. For the same reason, online shopping is becoming more popular among the youth. Well, there are other reasons too behind the trend of eCommerce apps and web development. Online shopping provides numerous options for users to choose from. On top of that, users get assured quality products while shopping online.
Especially, eCommerce businesses that are providing online services and products via mobile apps are trending nowadays. Not only do mobile apps provide a smooth order experience in comparison to the web. But also, eCommerce mobile app users get an end-to-end secure checkout experience while purchasing online. Because of the rich user experience, even users visit the mobile apps just for checking their favorite products. Thus, concerning all these facts, in the eCommerce market, along with websites, it takes rich-featured Android and iOS Mobile App for competing.
Following the same, the Android and iOS apps must be loaded with all the user expectations to achieve success within short periods.
Thus, in the following article, we are going to cover some of the trendiest mobile app features for eCommerce app development.
Must-Have Features for eCommerce Mobile Apps: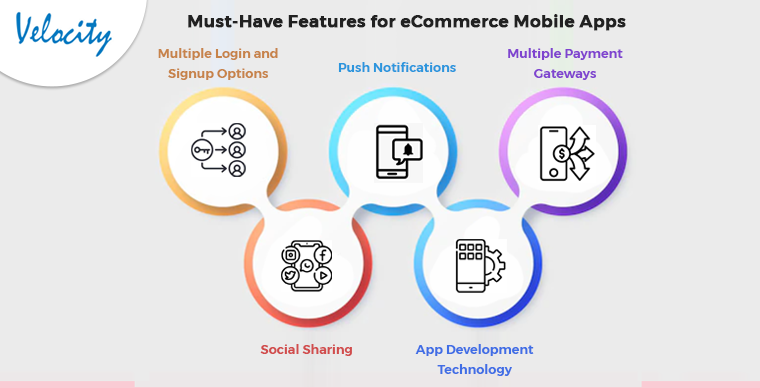 1. Multiple Login and Signup Options:
While designing the login and sign-up process in the mobile apps, eCommerce app development agencies should add plenty of options. For example, you can add social login options, and fingerprint login, and for the iOS App, you can try to add Apple and face ID Login.
The reason behind providing plentiful login options is that it simplifies the login process for the users. As a result, multiple social login options enhance the user engagement rate with the Android and iOS Mobile Apps.
2. Push Notifications:
One of the major reasons behind Native app development is Push Notifications. How? Not only push notifications are a great way of modern marketing. But also, allows eCommerce businesses to directly interact with customers. Thus, while developing Android and iOS Mobile App for eCommerce businesses. The push notification feature should always stay on top of the to-do list.
3. Multiple Payment Gateways:
The popularity and usability of payment methods vary from person to person. Thus, adding multiple payment options in Android and iOS mobile apps is always plus point for an App development agency. Not only multiple payment options reduce the order abandonment rate. But also, increases the customer's confidence in the brand name.
4. Social Sharing:
Nowadays, the young generation spends more time than ever on social media platforms. On top of that, people use social media platforms to transfer their favorite content to the community and their belongings. Moreover, there are huge chances that customers will share a product or other details in case they like something in your mobile apps.
Thus, providing social sharing options in the eCommerce Android and iOS Mobile apps could be beneficial in many ways.
5. App Development Technology:
The performance and future customization scope of Mobile Apps totally depend on the App development technologies.
For this reason, it is always mandatory to pick the best app development languages before proceeding with Android and iOS App development. Moreover, as the native Android app development language, Java takes care of most of the Android app development.
On the other hand, the top eCommerce app development services use Swift for iOS App projects.
However, if you are planning for a time-efficient and latest technology for your apps, you can also go with Flutter (recently introduced). The Flutter uses same code for writing both Android and iOS Apps. Which makes it a more time-efficient and quality-assured app development language.
While Hiring eCommerce App Developers:

The reason why eCommerce app development is taking a trend hike is. Nowadays, users prefer Mobile apps over websites while hovering over their favorite content. Further, the apps are beneficial for both users and businesses. If we check from the user perspective, the apps provide a secure and smooth user experience. On the other hand, businesses take advantage of the apps by using the apps as a direct marketing channel.
Moreover, there are a few points to consider before hiring a mobile app development service. You can check out our recent article for the same.
We are also available on our official email address inquiery@velsof.com for quick discussions on eCommerce web and app development requirements. Feel free to drop us a mail for a quotation on the projects.