OpenCart abandoned cart module that reduces cart abandonment rate
Posted by Nitin Jain / November 18th, 2014 / No responses
Researches done in the past have shown that every 7 out of 10 customers who place their items in the shopping cart do not finish the online transaction. All this comes out to be a result of shopping cart abandonment, which is a serious concern for many e-Commerce stores these days. Have you ever given a thought as to why it happens? Studies have concluded the following reasons which leads to cart abandonment-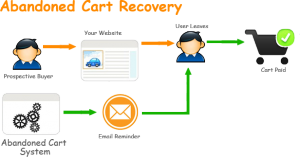 Almost 35-40% of the customers abandon their cart because of the hidden fees that show up once the customer moves to the final checkout process. The hidden fees normally includes shipping charges or tax amount which forbids customer to conclude their purchase.
30-37% of the customers abandon because they never get a chance to compare price between products and brands. If customer is not satisfied with the pricing and quality of product he has opted for, then chances are rare that he would go ahead.
Deals, promotions and coupon offers are something that attract customers to go for online shopping. Almost 60-65% of the online customers expects e-Commerce stores to come up with online discounts and promo coupon offers.
According to a study in U.S. , 11% of shoppers step back from an online purchase because they felt that the registration process during checkout process was very lengthy. The absence of social logins complicates the further processing of online purchase, which in turn leads to loss of sales and customers.
e-Commerce websites that do not run on smartphones and tablets also face loss in revenue generation. These days majority of the customers use their android phone to browse and explore online stores. The purchase conversion goes low if websites do not encourage multiple channel browsing websites.
So, if you are an e-Commerce business owner, chances are very high that your business will experience shopping cart abandonment. Ignoring this situation might lead to the risk of missing potential customers. In order to fight back with such problems, Velocity offers smart, effective and reliable solutions to design a perfect e-Commerce store for your business.
The latest and smart invention which our developers have created is the newly designed module known as "OpenCart Abandoned Cart". The extension seems heavy not only in its name but also the functional features it carries. Listed below are some of the excellent features of this module-
OpenCart abandoned cart module works smartly by sending e-mail notifications to the customers. By doing so, a reminder or alert notification is send to the customer's account mentioning about its pending orders. The functionality of this module allows you to recover sales from orders that stepped away before checking out. It becomes very easy to send automatic or manual e-mail alerts to the customer who didn't completed the final order. This automatically generated e-mail includes the order total of the items to be purchased along with the description of product. The email sent to the customers are known to encourage large number of sales back on the site.
Secondly, there is an option of discount coupon code which can be given to the customer for buying that specific product. This in turn leads to the recovery of loss in sales.
OpenCart abandoned cart module features
Customers to recover their carts in a single click sent via e-mail notification.
Customers will be directed automatically to the product page.
It allows admin to easily get the information regarding abandoned orders and order number .
Option to create your own Email templates that can be sent to the customer on a regular interval.
Email template can be customized as per the requirements, therefore it comes with a feature to add customized variables like Customer name, Product information, discount and offers in the template.
Admin can check the performance of the module, module shows reports to know how many abandoned carts have been converted to sales order.
E-mail notifications stops immediately once a customer finishes the purchase order.
There is an option to capture Guest abandoned cart as well, provided that you our Auto-subscribe module.
Admin can decide after how much time cart will be assumed as abandoned and can also set delay time to send mails.
So, if you want to bring sale back to your website and target large number of audiences, then our product OpenCart Abandoned Cart plugin is an ideal choice that solves all your issues related to abandoned shopping carts.