4 Microsoft SharePoint Alternatives in 2023!!
Posted by Nitin Jain / January 23rd, 2023 / No responses
Microsoft's SharePoint is a CMS platform. Not only do organizations use SharePoint as a CMS but also it comes in use for social networking, and collaboration suites. Although the platform is very popular amongst worldwide organizations. Yet, the premises versions of Microsoft SharePoint do not seem reliable to the audience. Even the users claim that in the full cloud migration on MS SharePoint, they have faced issues.
Following the same, there are various alternatives available in the market of Microsoft SharePoint that provides effective services at even better price points. So, let's find out and try to cover some of the best Microsoft SharePoint alternatives of 2023.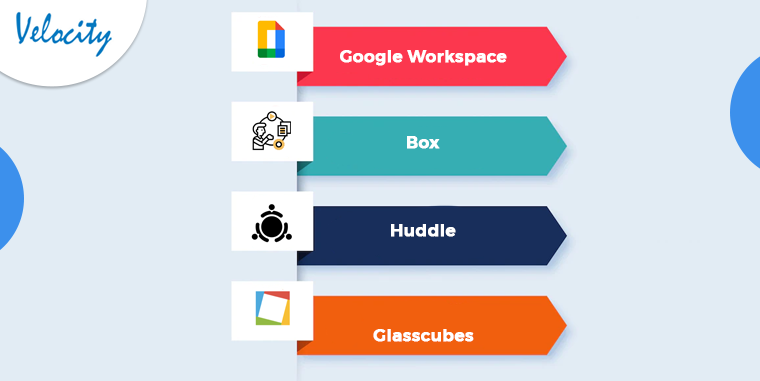 1. Google Workspace:
Well, Google workspace is one of the most used platforms for employee management. Moreover, the platform is famous for providing all the required essentials for organization-employee management at ease. For example, if you are using Google Workspace, you can access chats, calendars, google drive, docs, hangouts, emails, and many more features in just a few clicks.
On top of that, Google has also added various other features in the Workspace such as client-side encryption and data loss prevention.
Even, workspace offers flexible monthly subscription plans for organizations. Thus, no matter if you are a small organization or a bigger one. You may find Google Workspace as the best alternative to Microsoft SharePoint.
2. Box:
It is a Content Management System that is mostly used for document editing by groups, and review and approval workflow systems. Furthermore, the platform provides a secure file-sharing system, task list management, and project tracking systems.
On top of that, the platforms offer integrations with business apps such as Microsoft and Salesforce. Moreover, it is popular in European countries because the platform is compatible with GDPR compliance. The box is also made for all the organization categories as it offers 4 different tiers, Business, Business Plus, Enterprise, and Enterprise Plus.
3. Huddle:
Huddle is one of the most favorite CMS platforms and workspaces as it offers incredible compatibility with Microsoft office. This means the users can directly edit and configure the files without the need of downloading and reuploading the same. Even the Huddle users find the platform easy to use because of the tons of available options for customizing their workspace. Instance, they can change the themes, add branding, and can even enable or disable the workspace tabs.
Furthermore, the platform ensures a secure environment as it provides compliance with GDPR, FedRAMP, and ISO 27001.
Coming to the charges, Huddle also has two-tier subscription options for users. The first one is for small organizations that are having a minimum of 25 employees. And the premium one is described as Huddle Premier, which is a perfect fit for more than 100 employees. Also, the prices are available at individual request.
4. Glasscubes:
Glasscubes is beneficial for organizations that require collaborations during certain periods. Moreover, the Glasscubes CMS platforms provide an easy-to-use and clear-cut User Interface for employee organization management. On top of that, individuals can enjoy documentation management, review, as well as reporting management.
Well, the platform offers pretty basic features that make the bigger organizations a bit picky when deciding for choosing Glasscubes.
Regarding the subscription plans, the platform offers three-tier choices to organizations. Starting from Team, the level goes up to Workgroup, and then Enterprise.
Points to Consider while choosing Microsoft SharePoint Alternative!

While hiring CMS and Workspace management system there are a few points to consider. For example, in Microsoft SharePoint, the users were getting limited customization options.  Apart from it, the workspace should also provide cloud storage flexibility as well as cloud-based communication platforms. The other point you should consider before picking a Microsoft SharePoint alternative is the platform is highly compatible with cross-platforms such as Azure.
By the following, way not only organizations can manage a healthy business-employee workflow. But also, it saves a lot of time. Moreover, in case of queries and eCommerce development requirements, we are also available at our email address inquiry@velsof.com.