Points To Be Kept in Mind for Keeping Your WordPress Website Safe
Posted by Nitin Jain / March 29th, 2023 / No responses
Even if you do everything right when building your website, it may still end up in danger. This is simply in how much risk the website has while functioning and also cyber-attacks are possible. There is never a bad moment to implement WordPress security practices on your website. Overall, WordPress is a secure content management system, but because of its open-source nature, it has several serious security flaws.
Further, there isn't a single security solution for all WordPress sites but there are a few best practices that can have a significant influence. There are some simple things you can do to strengthen your security while configuring your WordPress site.
Some Of The Tips for Keeping Your WordPress Site Safe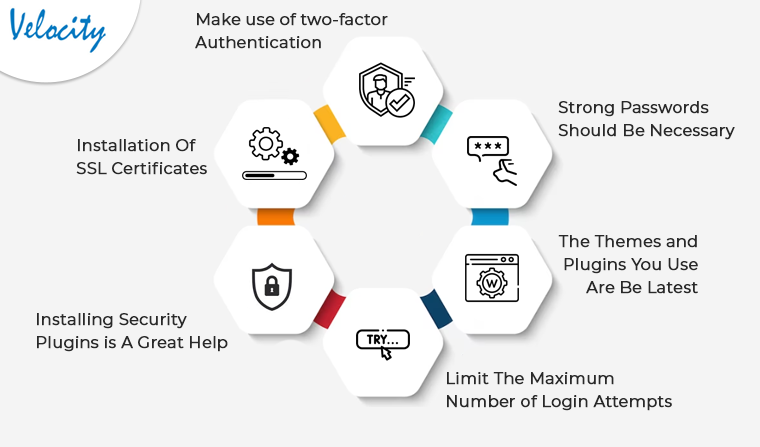 Installation Of SSL Certificates
Millions of websites utilize the industry-standard Secure Sockets Layer (SSL) certificates to secure their customer-facing online transactions. One of your first actions in securing your website should be to acquire this security. While the majority of hosting companies supply them without charge, you can purchase SSL certificates too. After that, activate the encrypted connection by using a plugin to compel HTTPS redirection.
Between a web server (host) and a web browser, this industry standard creates an encrypted connection (client). By implementing this encrypted link, you can be sure that any information transmitted between the two stays confidential and internal.
Make Use of Two-Factor Authentication
The use of two-factor authentication is a great additional safeguard for your login information. Every 30 seconds or so, this security measure updates and serves as a second temporary password. Within that 30-second window, hackers would have to guess both your real password and the temporary security code to access your website. Therefore, this considerably improves your odds of stopping them.
Due to the wide range of logins associated with the sites you can use two-factor authentication to manage it. You may apply two-factor verification to specific WordPress sites as well as your hosting account on WP Engine also.
Strong Passwords Should Be Necessary
One of the first steps you can take to secure your site is to use strong passwords for all logins and to make them a requirement. This goes hand in hand with getting an SSL certificate. It could be tempting to use or reuse a well-known or simple-to-remember password but it is not safe.
Your risks of being hacked are reduced by strengthening and securing your passwords. You're less likely to fall prey to a cyberattack if your password is more robust. There are a few common practices that you have to adhere to when creating a password. Use a free tool to check the password strength if you aren't certain that your password is secure enough.
The Themes and Plugins You Use Are Be Latest
Plugins and themes operate similarly. Both your site's installed plugins and the theme you currently use should be in the latest version. By doing this, you can stay away from security gaps, bugs, and other potential threats. Occasionally, specific plugins can be compromised or have security flaws found in them, just like it does with the majority of software products.
Limit The Maximum Number of Login Attempts
Increase the security of your login. If your login credentials have been tightened by restricting login attempts then it is one of the greatest ways to stop attempts to access your website via brute force. You can install a plugin to restrict login attempts. It will stop any login attempts after three unsuccessful tries and will block the site for 20 minutes.
Installing Security Plugins is A Great Help
Fortunately, you can rely on a security plugin if you don't want to handle site security entirely yourself. For your website, we strongly advise adding a few trustworthy security plugins. Use a plugin that is genuine and has good feedback to assure your website's security.
These plugins take care of a lot of the manual security-related work for you, such as checking your website for infiltration attempts, changing source files that can make your site prone, resetting and restoring the website, and stopping content thieving like hotlinking. Most items on this list can be covered by reliable plugins. Naturally, if you're utilizing some content management system, which includes malware scanning and threat detection within the platform then you won't need to take this step.
In the End
We have mentioned some points which are useful for your WordPress site security. WordPress security is a subject that is continuously changing. Moreover, the practices above in the article should serve as a good starting point for keeping your WordPress sites safe and secure. WordPress security is a crucial topic that every site owner should be aware of. In case you have an interest in the development of a website for your business or mobile apps for business then kindly let us know. Kindly connect with us at inquiry@velsof.com in case of any concerns.