Build Shopify Ecosystem – A Step Toward Self-Recognition
Posted by Nitin Jain / September 25th, 2022 / No responses
In addition to Shopify, there are numerous other competitors which are used to create millions of eCommerce stores, including Magento, WooCommerce, BigCommerce, and more.
Customers can't tell the difference between Shopify and Magento; they assume that all eCommerce platforms are the same. Even they are unable to distinguish between the two Shopify stores' similarities. No eCommerce platform will be praised in this way.
After observing the entire situation, Shopify created something that will make it simple for customers to recognize the Shopify brand. As a result, Shopify is used to create a consumer-facing ecosystem that includes the following features.
Features of the Shopify Ecosystem for eCommerce Branding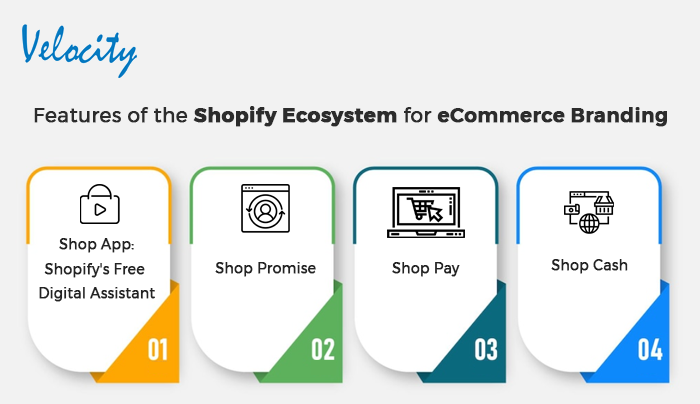 Shop App: Shopify's Free Digital Assistant
Arrive is a tool that Shopify created in 2017 to assist in tracking customer packages from Shopify merchants and retailers. When Shopify updated Arrive in 2020, it changed its name to the Shop app. Although they are similar, the Shop app has added more features. It transformed the digital marketplace, where customers were turning more and more to mobile commerce. It is the primary objective of Shopify to create the Shop app.
The Shop app is identified as a shopper's companion for online shopping that makes it simpler for users to find the brands and products they want. This speeds up the checkout process, and provides a better shopping experience, along with incorporating the most recent features of the Arrive app and Shop Pay because customers can track their orders. Using the Shop app, customers also receive push notifications about hot topics.
When a product has the Shop Promise badge, it guarantees hassle-free returns as well as dependable and quick deliveries within two days. Let you know that there are no membership costs or subscriptions necessary to use the Shop Promise feature. Items that hold a Shop Promise badge are involved in Shopify's fulfillment network.
This is to let customers know that Shopify makes such promises and that merchants will have no part in delivering on them.
Shop Pay, a one-click checkout and payment gateway, has been helping customers for ten years and today gives Shopify's GSV an additional 50% to 100% of its power. Shop Pay offers one-tap checkouts, end-to-end security, flexible payment methods, and carbon-neutral deliveries. Additionally, Shop Pay allows four different payment options, so you can avail of them to pay now or later.
Shop Pay is a considerate method of online payment which has the capacity to store and encrypt personal information to help you complete checkout in just one tap.
Shopify funds Shop Cash which is available to some Shop app users. It is now applicable to purchases made via the Shop app. The Shop app is used to enter a payment method for the order. When a customer uses Shop Cash to make a purchase, Shop Cash is applied first, followed by Shop Pay to cover the remaining balance.
Shop Cash is funded by Shopify, so when a customer uses it to make a purchase, the store owner receives full compensation. Shop owners are paid in full for all purchases made by customers, regardless of whether they use Shop Pay or Shop Cash.
The "Shop" tag denotes Shopify's consumer brand.
These three, Shop Cash, Shop Pay, and Shop app form a notable cycle.
Expected Results of the Shop App Launch

If Shopify's consumer-facing ecosystem is successful, it will encourage more brands to join it. Cashback can be considered as a short-term investment for the time being, as other benefits will most likely participate in the long-run expansion. This ecosystem will benefit eCommerce stores without highly centralizing the need for a marketplace like Amazon.
It's not like Shopify's customer-facing ecosystem will help consumers understand which platform they're using; on top of that, they won't care. They will be drawn to various Shop features, leading them to prefer Shopify over other eCommerce websites.
As we all know, Shopify will not stop there. It will soon sprout more Shop-branded features that will accelerate its growth.
Final Thoughts
Shopify was previously inaccessible to its users, but the growth of such an ecosystem and its benefits to consumers and brands will be a win-win situation for Shopify. To develop your online store using the Shopify eCommerce platform, contact us today. We will provide you with desired solutions in a cost-effective manner and timeliness.