Google E-A-T: All You Need to Know in 2023!!
Posted by Nitin Jain / January 2nd, 2023 / No responses
As modern users prefer searching for everything on Google. Website admins are using SEO tactics for improving their Search Engine Optimization. Following the same, Google is changing Search Engine Optimization algorithms during certain periods. Expertise, Authoritativeness, and Trustworthiness. Although the term is almost a decade old. Yet, it still plays a major role behind website rankings on Google. In detail, the term E-A-T stands for Google's analyzing criteria for the quality of Google searches.
In other words, Google ensures the best content to be delivered concerning the searches instead of low-quality and promotional content. But the question is how Google decides which is the high-quality content and which should not be ranked higher. The answer varies in Google's advanced algorithms. Thanks for the regular updates.
Moreover, not only informational content but also Google considers brands and companies based on E-A-T algorithms. Thus, let's dive in and try to know more about the E, A, and T in Google's E-A-T concept.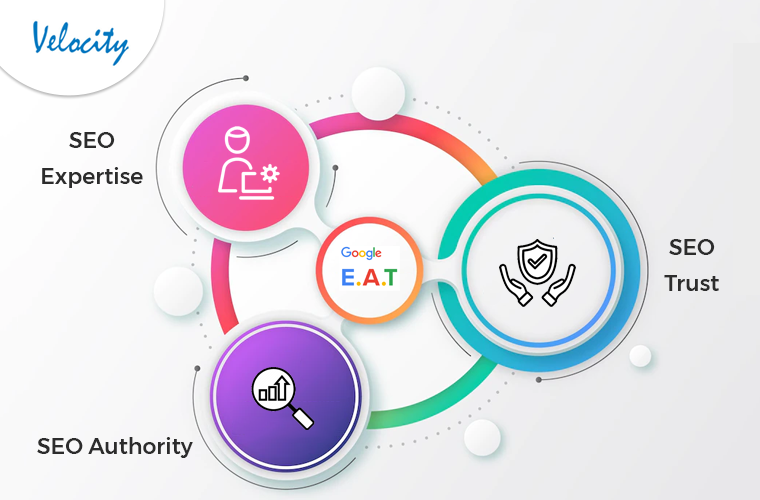 SEO Expertise:
For ensuring the finest E-A-T scores, the posted information should be highly informational and should not include spam. This means misleading and inappropriate information will not be considered idle. For example, Google's algorithms will neglect faulty claims and incomplete information from ranking on Google.
Thus, not only formal information but also the content should answer the title properly to be considered well from the SEO Expertise end.
SEO Authority:
Google analyzes the Authority by looking over the author's presence in other places. In simple terms, the author which has published the details should be engaged with true meaning with the concerning organization.
SEO Trust:
The Trust factor in Search Engine Optimization ensures that the visitors should not get scammed from a redirected URL or link provided in the information. Thus, according to Google, every search users made will ensure them the most relevant and needed information.
Furthermore, while visiting a website, the users should get clear privacy policies, details, information, and other data which should increase trust in the business.
How to Improve E-A-T Score for a Website?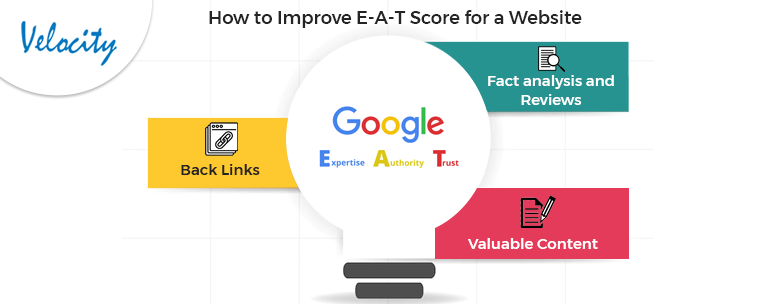 1. Back Links:
Although you will not find it mentioned in a lot of places, yet, one can improve the E-A-T score by creating more backlinks. But there is a thing to understand in the following tip.
Google's algorithms know well about which backlink should be considered as an actual backlink. In other words, rather than focusing on low-quality backlinks, as an eCommerce website owner, you should consider more quality backlinks.
2. Valuable Content:
Consider your business as a health-based eCommerce business. Now, in the following case, you have a great opportunity to boost your E-A-T score by delivering valuable content on Google rather than promoting your business.
Moreover, if you want to add starts to the same, you can provide the expertise references to ensure the authenticity of the information.
3. Fact Analysis and Reviews:
Google considers a website and its data based on facts and customer reviews it is having. Moreover, if you are a content-driven website, you should keep updating the data regularly. Likewise, you can also try to understand market factors and implement the learnings into your business.
On the other hand, you can ensure an idle E-A-T score by providing relevant facts-based information to the visitors.
In the end,
Although Google has updated almost every core web SEO Vitals yet, if you are putting every brick in its place, it is not that difficult to have an excellent SEO for your website. On the other hand, along with performing Search Engine Activities for your website, it is important to keep an eye on Google's SEO Updates.
Meanwhile, you can also get back to us in case of SEO and eCommerce web and App Development related queries at our official address inquiry@velsof.com.