Google Page Experience Update and Factors Affecting It
Posted by Nitin Jain / December 26th, 2022 / No responses
Google Page Experience is a strategy the company uses to enhance the user search experience. Additionally, Google desires users should have a top-notch experience on the websites. In regards to the standards of the Google page experience, websites that provide a bad user experience should have a low ranking.
Google's algorithm was already geared towards promoting original and high-quality content before mobile usage on the web surpassed desktop traffic. Also, the content that signifies knowledge and reliability on a subject will have priority according to Google's algorithm.
Apart from this, it is clear from Google norms that the website will rank high if the content is top-notch despite the user experience. Also, the pages which are having great content will have preference even if some components of the website are not meeting the standards. The page experience becomes important when the websites already ranking high are having similar content.
Introduction to Core Web Vitals

According to Google's most recent standards, there are many crucial elements of the user experience. Three fundamental web elements are the most crucial ones which are:
Largest Contentful Paint (LCP):
LCP is the length of time it takes for a webpage to load any useful content. If it takes more than four seconds for your webpage to load, you're in trouble. A decent LCP will be shorter than 2.5 seconds.
First Input Display (FID):
The FID is the length of time it takes for a website to react to a user's input. It is how long it takes for a user's click on an interactive element for registration and in receiving a response. It is ideal to have response times of 100 ms or fewer.
Cumulative Layout Shift (CLS):
Cumulative layout shift represents the last indicator in the Core Web Vitals. This indicator gauges the stability of the page. For instance, you would need to retrace your steps if you were reading an article when the page shifted. It's known as a page layout shift, and it's very aggravating. As the page loads, its overall layout changes, which is the cumulative layout shift.
Other Factors Responsible for Improving Website SEO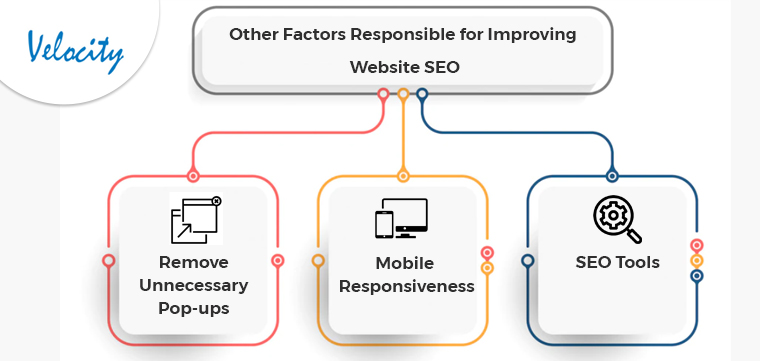 Remove Unnecessary Pop-ups
Users' browsing experiences are constantly ruined by the usual pop-ups or advertising you get to join for a newsletter. Google concurs with the majority of internet users that these kinds of predetermined disruptions make browsing websites less enjoyable. Additionally, it is annoying to go through unwanted advertisements and pop-ups while browsing on a mobile device. It is so because with a screen that has a small screen size the pop-ups are very irritating.
Mobile Responsiveness
Good, original content that satisfies the requirements continues to be of value to Google in its search results. Additionally, Core Web Vitals offer a mechanism to measure a website's UX based on Google's conception of the ideal browsing experience. Additionally, it's crucial to keep in mind that the desktop is only one aspect of the situation, other factors must also be taken into account.
Google considers how well a website performs on mobile. As a result, how well your site performs and ranks in Google Search is now directly related to how well it works on mobile. The speed at which a page loads is a significant consideration for determining a website's Google ranking. To support interoperability with more devices and browsers, it is also necessary to leverage contemporary and widely-available web technologies.
SEO Tools
Various SEO tools are beneficial for ranking websites. Some of them are:
SEO Wizard
The Interlinks and metadata in the front end of the website by the SEO Wizard, make it simpler for e-marketers to manage the SEO of the site. You can make all the changes on the module's back end, and cron will automatically sync those changes with the website. Less time and effort to improve the site's ranking on search engines are in need thanks to the SEO expert plugin.
SEO Optimizer
Using the SEO optimizer plugin, the default URL conversion to SEO-friendly URLs is possible. This module helps in improving the ranking of the website on Google SERPs.
Wrapping it up
In this article, we have been discussing the Google page experience and the factors affecting it. We are here to assist you in case you need to know anything about the methods to improve your ranking on Google SERPs. Also, we can assist you if you have any concerns or issues related to our modules. Moreover, you can revert to us if you want to add any feature to your purchased modules or plugins. We can also assist if you want to have any customizations specific to your business requirements.