Social Media Optimization: Top 3 Methods in 2023!!
Posted by Nitin Jain / January 19th, 2023 / No responses
In 2023 the modern generation is driven by social media platforms. On an average basis, a user spends almost a quarter of the day hovering over his favorite content on social media platforms. Like Instagram, Snapchat, Facebook, and more. Even our daily life is impacted by social media influencers in various ways. For the same reason, the popularity of social media platforms is creating the need for social media marketing.
Moreover, social platforms are great sources of getting customer traffic toward a website. Various online businesses are using social media optimization for gaining visibility in front of social platform users. Although SMO (Social media optimization) is a new term yet, it is becoming trendier along with social media.
Thus, in the following article, we will go to cover all the details about Social Media Optimization. And, of course, the easiest ways to make the most out of it.
SMO: All You Need to Know!

Social Media Optimization is the set of strategies that help a brand make the most out of its presence on social media platforms. Either it can be done for improving brand recognization and enhancing customer traffic or the motive can also be to gain more customer leads.
Although there is just a slight difference between social media marketing and Social Media Optimization. In-depth, social media optimization is a kind of improving social media marketing for an online business. Furthermore, social media optimization covers all the lower-level to higher-level aspects. For example, SMO for a brand will cover lower-level improvements (posting methods). As well as will take care of higher-level improvements (brand image and profile building).
3 Easiest techniques to improve Social Media Optimization: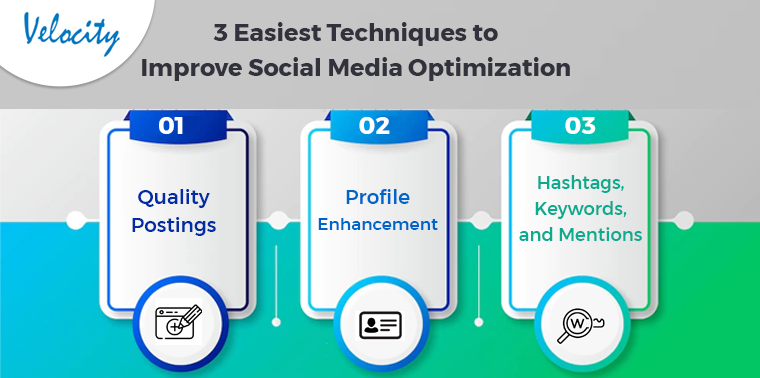 1. Quality Postings:
Getting popularity on social media platforms such as Facebook and Instagram is not just about continuous postings. If you are willing to make something out, you will have to be careful about the quality, time, number, and data in your post. In other words, it is most important to provide something relevant and interesting in your social media posts.
For example, you can run a giveaway on various occasions. Apart from it, to make your posts more interesting, you can add lucrative images along with questions in the postings about section.
Along with posting the right content, to improve Social Media Optimization, it is important to post at the right times only. Apart from it, as the modern community is a big fan of memes, you can add a pinch of humor in your promotional postings to touch the young youth.
2.  Profile Enhancement:
Whenever a visitor passes through a brand's profile, the first thing he gets his eye on is the social profile of the account. On top of that, the attention span of modern social media users is very short. For the same reason, users look for relevant pieces of information covered in a minimal word count.
Thus, as a result, the following fact increases the need for profile enhancement for Social Media Optimization. Well, this is the part where you will have to explain the most within the limited words. Thus, you can narrow down to the following points while describing your bio:
ü  About Your Brand.
ü  What Kind of Services You are offering.
ü  About Your Brand Interests.
ü  About Your Collabs.
ü  Major Business Partners (If Any).
ü  How Can Someone Contact You.
3.  Hashtags, Keywords, and Mentions:
These three factors play an important role in the success rate of a social media post. For example, Instagram is one of the most used social media platforms that shows the results to the viewers based on the hashtags and keywords the viewers are showing interest in. Thus, while uploading a post, the best you can do is to find out some of the trendiest keywords for your business category. Instance, if you are an apparel-based eCommerce business, you can check out the trending keywords and hashtags by visiting your competitor's pages.
Likewise, the other factor that matters greatly is the mentions you include in your social media posts. Thus, in case you are having collaborations with social media icons, you can also show off the same in your social media activities. The same will not only improve social media optimization but also, add stars to your brand name.
In the End:
Marketing is the backbone of online businesses. In other words, if you are willing to succeed in your eCommerce business, there is no shortcut except marketing for the same. Not only just marketing but professionally doing the same is a must to keep up with the competition. Moreover, if you are looking for promised and quick results, you can also hire Velsof as your marketing ally. Apart from it, we provide various other relevant services which are app development, PHP, and Laravel Web Development along with React. Thus, in case you are willing to get a quotation on your dream business, you can always drop us a mail at inquiry@velsof.com.