What Are the Best Free SEO Tools For Your Websites?
Posted by Nitin Jain / February 2nd, 2023 / No responses
It can be challenging to master SEO optimization, especially when you first start. Fortunately, finding the top SEO tools is simply because we've here a list of some of them in this article. Finding the tool that works best for your business doesn't require you to test them all out you can simply see their features and decide accordingly.
What seems to be difficult tasks can be accomplished with the correct SEO tools. As the finest ones typically offer a collection of features that will assist with all kinds of SEO concerns, they can also make the life of an SEO consultant easier. It can be challenging to select an SEO platform as there are so many options available, and many of them are rather expensive. However, if you have the appropriate information then you can find some excellent SEO tools and also ones that are either completely free to use or quite inexpensive. Let's know about some of the free SEO tools which we are going to list below: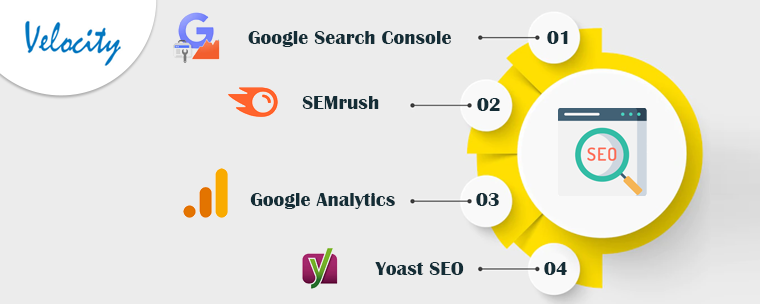 Google Search Console
Everybody who has a website can use Google Search Console for no cost. Your website's SERP presence can be tracked and reported on using Google Search Console. You can submit your sitemap for indexing after just verifying your website by adding a code or using Google Analytics. But if you want to show up in Google's search results, you don't need a Search Console account. With this account, you can also manage the indexed content and the representation of your website.
Search Console can also be used as an SEO checker tool to learn how Google and its users check your website. It also enables you to improve your performance in Google search results. Because it enables website owners to submit web pages for search indexing, it is particularly helpful for new websites.
SEMrush
SEMrush is one of the top SEO tools available. For beginners, this platform offers a convenient all-in-one feature. Additionally, they offer a free 7-day trial of their platform. So, you can see if you even like it after a week of trying it. In the world of SEO, backlinks and keyword research are undoubtedly both crucial.
Additionally, SEMrush aims to provide users with a package that allows them to perform a variety of tasks from a single dashboard. New users are given priority in the platform's design. It offers possibly the most thorough dashboard out of any platform on this list, as well as being well-organized and, as mentioned above.
Google Analytics
Analytics here mostly applies to PPC (Pay Per Click) and other marketing initiatives. The reason for this is that Google provides information on the effectiveness of those efforts. A useful statistic to take into account for SEO generally is how well your content is performing, which Google also informs you of it.
Google Analytics' contribution to SEO is that it enables you to see how your material performs in the actual world. Furthermore, content analytics are much more helpful for smaller organizations because they could not immediately begin using paid advertisements. With this knowledge in hand, you can identify any "holes" in your plan. You can discover, for example, that you aren't in a position to compete for some important keywords.
Yoast SEO
Yoast produces several SEO-related plugins, but in this article, we'll focus on their free SEO plugin for WordPress. This is among the most complete free SEO tools. It contains some fundamentally technical SEO features, like link verification and performance optimization. The plugin then examines your text to make sure it is reader-friendly and SEO-optimised. The sophisticated indexing features of Yoast SEO free make it simpler than ever to have your site indexed by search engines.
This makes Yoast one of the oldest and most well-known SEO tools undoubtedly. Additionally, the free edition is a terrific place to start even though it lacks all the features of the premium version. If later on, you require more features, upgrading to premium is simple. Best of all, you won't become overwhelmed with a ton of unnecessary distractions because this program primarily focuses on SEO.
Wrapping Up!!
In this article, we have a list of some SEO tools which are easy to use and are adaptable easily to new users. In case you need any assistance with the SEO, eCommerce website, and business-related mobile apps you can connect with us. Kindly revert to us at inquiry@velsof.com for your concerns related to our services and we will be happy to assist you.