7 Ecommerce Seo Mistakes That You Should Fix Immediately
Posted by Joe / July 26th, 2017 / 1 Response
SEO is big, and bigger is its contextual application. Especially for the eCommerce stores, SEO is not just about getting traffic but also the right traffic for making sales. It is the only thing that lets the prospects in the neighborhood know that some new store has been opened.
The extent of the neighborhood could be relative depending on the size of the business, but whatever it is, the brand identity can be built through an effective SEO. You might hire an SEO specialist or an SEO agency to do the needful, but it's also necessary that you as well remain aware of certain things about eCommerce SEO of your store. Perhaps, you might find that your SEO people are doing some mistakes.
Therefore I have compiled a list of 7 common eCommerce SEO mistakes that if exists on your store, you must fix them immediately. So here they are:
1. You are not building links
This is a common issue with the rookie website owners whose primary sales channel might not be the website alone. They might have a brick and mortar shop or just a shop on Amazon or eBay.
The span of concentration deviates from the website and they simply feel that the SEO agency whom they have hired will look after everything. Probably, yes, the SEO company might look after everything but there are certain SEO aspects that go beyond the on-page SEO and calls for both marketing and SEO to work together.
Link building is one such on-page SEO technique that also has a strong dependency on the off page SEO. For example, the backlinks are going to be there on your website only if you have a strong content authority, but it doesn't look like you have been paying attention to content marketing and guest posting recently.
What do you need to do?
Prepare a content marketing strategy and start blogging. Take the help of guest blogging to get along with other bloggers and earn backlinks from them. Remember that your content must be of high quality or else backlinks are not going to just fall in your bag by themselves.
Unique content, with lots of information and value to the readers, just these three aspects in your content can help you gain a lot. Hire, a content writing agency if you cannot find the time to do it by yourself. Most of the SEO agencies also provide this service.
2. Unoptimized title tags
Link building is a huge concept and so are its requirements. However, the current point marks a very common mistake that is also made by many rookie SEO or website owners. Writing wrong, unoptimized, or irrelevant page titles.
Title tags are one such on-page SEO factors that directly determine the relevancy and the ranking of your web pages. Web pages can only make way to the relevant SERPs if they have a correct and relevant page title.
Many SEO or website owners consider the title tag field in their CMS as yet another entry and just put anything in it without even thinking what effect it can have on the SEO of the page.
What do you need to do?
Do a proper keyword research before writing the title tag for eCommerce pages. Especially the product pages. Do not just use any keyword that is trending, it should be relevant to your page or the product that your posting. Moreover, you should also target the long tail keywords as they can give better conversions as compared to short tail keywords.
3. Duplicate product description
The duplicate product description is an issue that is common not only with rookie SEOs but also the learned ones often make this mistake. The content for product description is duplicated at two levels:
Copying the product description from another website
Copying the content from your own website
In both the cases, you have duplicate content on your website. Truth to be told, Google doesn't have any algorithmic penalty scheme for content duplication, but there have been several cases when websites have been manually penalized by Google for stealing the content.
What do you need to do?
Avoid duplicating the content from other sites, especially without their consent. Hire a content writer to write unique product descriptions if you cannot do it by yourself.
Furthermore, in case you want to duplicate a content from your own website to some page on the same website, use a little HTML tag like this:
rel="canonical" Tag
The canonical tag is really helpful. It is used to tell the search engine that which content to index and consider for ranking. By using it you can prevent the duplicate content from getting indexed, and most of all, it helps you to not to confuse search engines with lots of duplicate content on your site.
4.  Unnecessary pages to be indexed by the search engines
There are uncountable cases when websites in action generate too many dynamic URLs for the same set of content. Layered navigation and pagination pages are few examples. Based on different filters or pagination location, a category or product listing page may generate several URLs for the same set of products. this results in too many unnecessary URLs and duplicate content for the search engines to index.
For example, on this product listing page, the URL for the listing with ascending or is different from the URL for listing with the descending order, but the products are and contents are still the same. So, two URLs will have exactly the same content.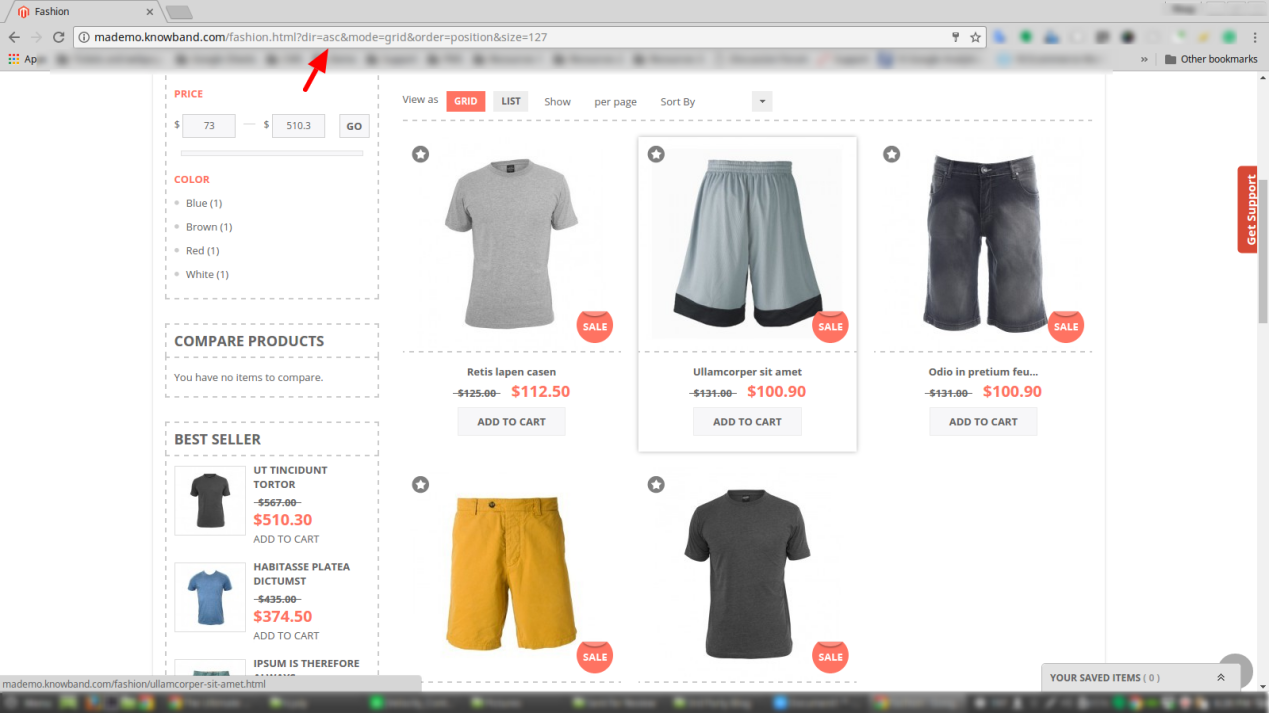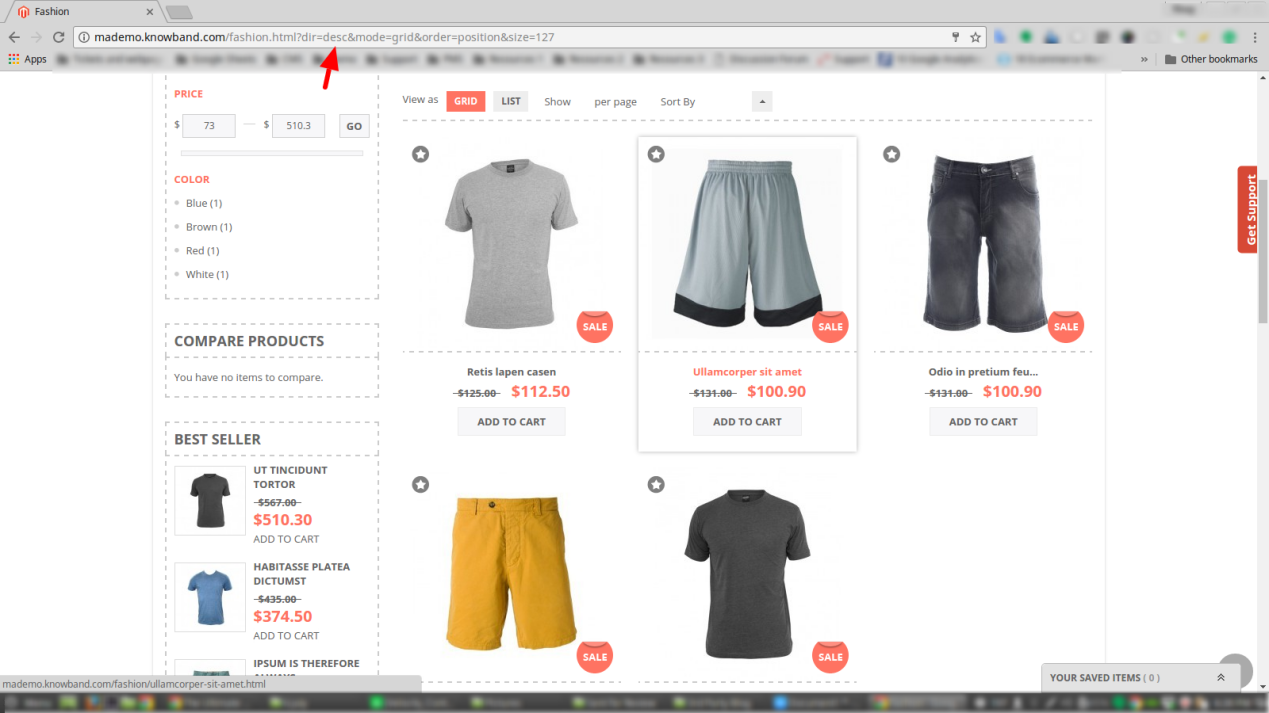 What do you need to do?
Use the canonical tags on the duplicate contents pages to point towards the original URL for the content. Make your base static URL of the listing page as original and put a canonical on the rest of the generated URLs due you layered navigation or any reason.
If this seems too tough, there are various layered navigation extensions in the market that you can install. These extensions allow layered navigation and automatically put the canonical on duplicate content pages.
Extensions might not always be useful as they miss out various other unnecessary URLs to stop from indexing. Getting in touch with an SEO cum development company might help you audit and fix these issues more efficiently.
There is a discussion regarding the same issue about Magento on knowband forum, you can take a reference from there as well.
5.  Poor or no schema markup
Schema markup is a powerful SEO asset used to let the search engines index your whole site properly and return more relevant and informative content to the users. Schema mark up is one of the newest inventions of the modern SEO, and an effective asset for powerful SEO, however, it is least used by the webmasters today.
It is because not all webmasters really understand the concept and method of schema markup that can boost the SEO to a great extent. Here's an example of a local business that has used markup for its event scheduling page. The entry looks something like this in the SERP:

What do you need to do?
Go to Google's Structured Data Markup Helper and select the type of data that you want to mark up and start marking up your schema. The procedure is well explained on this kissmetrics post here.
6.  Slow page loading speed
Having a slow loading website is the worst SEO mistake you can make today. According to Akamai and Gomez.com, about 50% of web users expect a page to load within 2 seconds or even less, otherwise, they tend to leave a site that doesn't load within 3 seconds.
Moreover, 79% of shoppers who have experienced speed trouble with a site say they won't return to the site again and almost 44% of them will tell an acquaintance about the poor experience they had while shopping online.
This data says how you will lose sales if your site is not fast. The status of SEO would also not be good with a slow website. Google will always prefer faster sites in its SERP. No matter what, Google is not going to ruin it search quality by including slow websites in the search results.
What do you need to do?
Do whatever, you can do to improve your site's speed. You have a lot of back office optimization options that can also help in page loading optimization.
Furthermore, utilize the Google's Test my site tool and Page Speed Insights. Google has recently updated its test my site tool, you can now get a great help in page loading optimization from it.
7.  Removing the products- Temporarily and permanently
Removing the product pages is done by the websites in two ways. First, when you disable a product that has gone out of stock for a period of time, this is temporary removal. Second is when you permanently disable a product page for a product that you no longer intend to sell. For example, there could be various models of smartphones that manufacturer may discontinue to manufacture after a certain period of time.
In both the cases, a serious blunder is created by disabling or removing the product page and other links associated with it. Those pages could have earned some backlinks and might have been your best selling products earning a great share of traffic and SEO for your website. Moreover, by removing the pages you are making your website thinner which is not a wise step.
What do you need to do?
Don't remove the product pages even if they become unavailable temporarily or permanently. Instead, consider setting up a 301 redirect to the relevant pages of the website. By doing so, the SEO associated with the discontinued product page will remain intact and you will keep receiving the share of traffic those pages generate.
In the case of out of stock products, you can setup a back in stock alert notification system on the product pages. Allow customers to subscribe to receive email alerts when the product is back in stock. Something like this Magento back in stock notification extension.

Your Turn
SEO is not a one time process. You need to keep optimizing at every sphere of time. You will get numerous opportunities and ways to rank higher, however, a single mistake will get you down the page. Check the small mistakes like these and keep fixing them as you catch them. These small efforts will ultimately come out as a big achievement eventually. Get in touch with a good SEO company if you need to, sometimes experts can do the same job more effortlessly.