Key Reasons Why Use WooCommerce to Build An eCommerce Platform
Posted by Nitin Jain / September 24th, 2022 / No responses
Looking for a feature-rich e-commerce platform that will make your online store management and selling hassle-free? WooCommerce is the best solution for this. In this blog, we explain why you should use WooCommerce as your e-commerce platform to stay ahead of the competition.
Bringing your physical store online is not difficult, but choosing the right e-commerce platform to make it happen the way you want it to is a bit tricky. You require an e-commerce platform that can provide you with a unique and smooth running online selling program, as well as handle your online store's processes seamlessly.
That's where the feature-rich WooCommerce comes in. It is a simple and versatile builder for your e-commerce store or website development! WooCommerce makes it easier to transform a WordPress website into a stunning online store, so it has grown in popularity mostly among merchants. As a result, they approach experienced WooCommerce developers to create a fast-loading, uniquely tailored, and secure WooCommerce store.
What Exactly is WooCommerce?

WooCommerce is the most popular and the best WordPress e-commerce plugin that allows e-commerce business owners to easily create and manage online stores. It adds various functionalities to your WordPress site and allows you to quickly transform your WordPress site into a fully functional eCommerce online store.
WooCommerce was launched in 2011 as a flexible, open-source eCommerce development solution. It quickly became the primary solution for business owners looking to launch their own online stores. WooCommerce comes with a lot of store functionalities and a free plugin.
Reasons Why WooCommerce Is the Best Platform for Online Store Development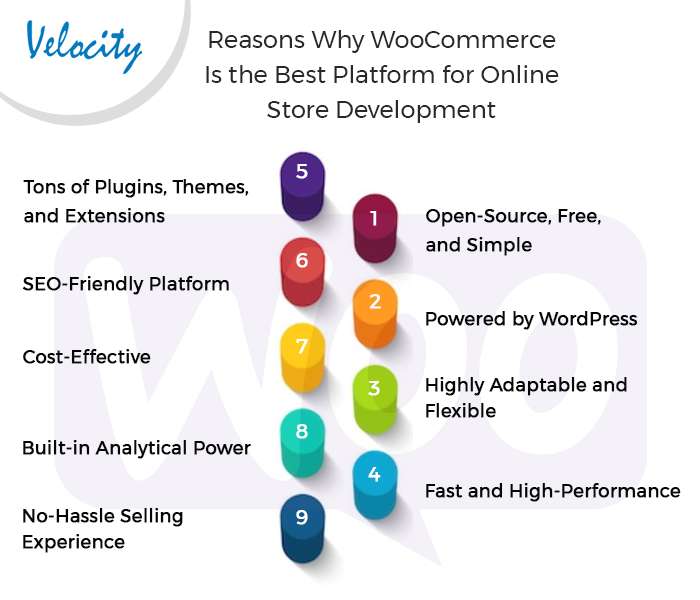 Open-Source, Free, and Simple
One of the best aspects of WooCommerce is that it is free of cost, open-source, and simple to use. WooCommerce is very easy to use, which means that a person with no coding experience can seamlessly n use it to create a fully functional e-commerce store in no time. Furthermore, because it is an open-source platform, it ensures that there are no potential vulnerabilities in your website's system. And it is exactly like what every modern merchant wants to have.
WooCommerce is a WordPress product, and we are all aware of WordPress's popularity. It powers more than 41% of all websites with a market share of over 64%. WooCommerce became well-known as a result of being supported by WordPress. Merchants trust WordPress, which is reflected in WooCommerce. Many e-commerce business owners today associate online stores using WooCommerce.
Highly Adaptable and Flexible
WooCommerce is extremely adaptable. It offers the best way of selling anything. WooCommerce allows its users to sell online, anything including physical products, digital products, subscriptions, appointments, and more. Furthermore, WooCommerce is highly customizable as it gives a plethora of free and paid extensions to add numerous functionalities to your online stores such as accounting, payment gateways, marketing, reporting, and much more.
Fast and High-Performance
If you don't have a fast-loading eCommerce store in this fast-paced digital world, you will probably fall behind your competitors. However, WooCommerce came to the rescue and made e-commerce stores fast with unrivaled performance. This platform is specifically designed to provide online stores of all sizes with a fast and responsive e-commerce experience.
Tons of Plugins, Themes, and Extensions
WordPress is well-known as it has a vast collection of themes, plugins, and extensions. WooCommerce offers an extensive theme library that ensures that your website looks exactly how you want it to. You can add desired functionality to your online store with a plethora of offered plugins, and extensions. All of these factors combine to make WooCommerce stores simple to use and highly scalable.
WooCommerce is a WordPress product. WordPress is widely regarded as the SEO-friendly CMS platform in the market. WooCommerce's SEO capabilities assist you in ranking your online store at the top of search engine result pages (SERPs). As a result, you will have improved searchability, visibility, and organic traffic. Yoast WooCommerce is a popular SEO plugin for WooCommerce store development.
Nowadays, everyone wants more while spending less. Pricing is actually an important consideration when looking to launch an efficient online store. As a result, it is the primary reason why merchants prefer WooCommerce. Because it is free to use, any business owner or entrepreneur can benefit from its capabilities. In fact, WooCommerce subscriptions are reasonably priced and include a wide range of features.
Built-in Analytical Power
Analytics are critical to the success of e-commerce businesses. The more you know about your customers, their interests, shifts, pain points, and so on, the better your offerings will be. WooCommerce is an out-of-the-box solution, including built-in analytics to help you solve your problems regarding online store development. Furthermore, using extensions, you can easily integrate other analytics such as Google Analytics and other top-tier analytics software.
No-Hassle Selling Experience
WooCommerce makes it easy for store owners to sell products. WooCommerce's online store strives to maximize sales, and its built-in features make it easy and quick to sell anything online. With advanced technology, e-store management, and enticing storefront WooCommerce service assist you to create a customer-friendly e-commerce website and provide you with a smooth selling experience.
Wrapping It Up
All of your e-commerce business needs can be met by WooCommerce as it is a one-stop shop. It is cost-free, quick, versatile, and simple to set up and use. It has every feature you require to launch a prosperous online store. WooCommerce is a complete solution, to put it briefly. Look no further than WooCommerce if you want to expand your online store. Pick it now, and you'll thank us later. Good fortune!