Top 7 blogging platforms to start your new blog-pros and cons
Posted by Joe / June 29th, 2017 / No responses
So, you have made your mind to start your new blog. Great idea! Blogging is an ultimate way to spread the wisdom of your knowledge and experience with those who need your help. You cannot only help the needy but also make some money in the later part when your blog becomes a hit.
Well! That's a part that comes when you have a successful blog. Let's take the first step so as to reach that part someday.
Choosing the best blogging platform for your blog
A platform where your blog would thrive as it develops into a Wikipedia of valuable information in your niche. But it's a tough job to choose the best platform that suits your needs and requirements. Additionally, if you have a vision of monetizing your blog, or use it for content marketing, you will need to pay an extra attention to this step. A wrong choice can break all your expectations.
Here I have compiled a list of the top blogging platforms that are being used today by the top bloggers on the internet. This list would present a comprehensive comparison of all the platforms with their pros and cons included.

WordPress.com is a company that was created by WordPress.org co-founder Matt Mullenweg. The main reason for the huge popularity of this platform is its free basic blog hosting service.
It's a hosted solution that provides all the basic WordPress features and functionalities as ready made. You just simply need to sign up on WordPress.com to own a free hosted blog of your own.
However, you can also upgrade to the premium options to avail additional features like Custom Domain Name, Additional Storage, and Premium Themes, etc.
Pros of choosing WordPress.com
No setup required to install the WordPress; you will get it pre-installed.
No hosting required; it's already hosted on WordPress server.
Easy to configure and manage.
No coding skill required to become a blogger.
Lots of WordPress themes to choose from.
Option to purchase premium features if required.
Cons of choosing WordPress.com
Features and functionality are very limited for free users.
The free version is not sufficient for professional blogging.
Limitations in showing ads and affiliates.
Limited options to extend the features.
Your domain name will come with .wordpress extension unless you purchase the custom domain.
Price: Basically it's free and hosted. However, you might feel a need to purchase certain options to launch an effective blog.

WordPress.org is one of the most popular blogging platforms. It is an open-source content management system (CMS) which allows you to build your own website or blog by your own. It provides a ready-made platform that can be customized with WordPress plugins and themes to meet your expectations.
Please note that it's a self-hosted solution. That means you need to build you site and host it on a webserver of your choice to make it live.
Pros of choosing WordPress.org
Free and open source platform; no setup cost for using the platform.
User-friendly content management system.
It is world's most popular blogging and CMS platform.
High affinity with SEO friendly features.
Option to choose from more than 45, 000 free WordPress plugins.
Option to choose from more than 1,500 free WordPress themes.
Full control over every aspect of the website.
Easy options to optimize for Ads, banners, AdSense and other monetization options.
Lots of premium WordPress plugins available to acquire ultimate and trending features.
It's very easy to install a WordPress plugin in minutes.
Cons of choosing WordPress.org
You have to spend on getting your website hosted on a web server.
You have to manage the monthly charges for hosting.
The website is fully under your control. So you are responsible for keeping your site safe and operational.
Requires technical skills to keep up with upgrades and security patches.
You are responsible for regularly backing up your site and database. However, there are certain plugins that can automate the backups.
Price: Free and open-source. However, you will need to spend on website hosting, and some premium plugins and a theme if free options are not satisfactory.
3. Blogger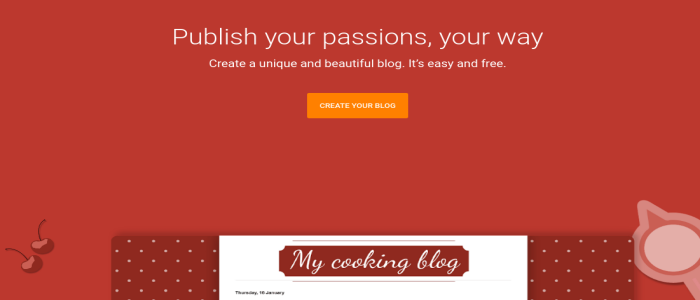 Blogger was acquired by Google in 2003. It's a free blog hosting service like WordPress.com which offers a quick and hassle-free way to start a new blog. It's a great option for non-tech-savvy users who do not have an intention for professional blogging but as a hobby instead.
Though it is a better option than WordPress.com because of it's feature to monetize your blog using AdSense Ads, it cannot be compared with WordPress.org. It's a hosted solution with limited features and access while WordPress org is all that I have explained in the above point.
I have found this platform as a perfect choice for beginner bloggers who can start their learning experience on a completely free platform.
Pros of choosing Blogger
Absolutely free to use.
Can Monetize your blog with AdSense Ads.
You can access the HTML codes for more customization options.
No technical skills required to become a Blogger.
Added advantage of Google's robust security as the platform is owned by Google.
Best option for starting as a rookie blogger and learning new things without spending a penny.
Cons of Choosing Blogger
Bound to use only the limited features provided by the platform.
You cannot install a plugin or module to add a new feature.
Limited themes and design options with only a few templates available.
Almost every Blogger site looks similar.
Limited options to embed your branding; all major branding is for the platform itself.
No frequent updates or upgrades in the platform.
You do not own blog. Google can put it down anytime.
Users who are all set with your blogging experience and learning eventually switch to WordPress.org for better opportunities.
Price: It's free
4. Tumblr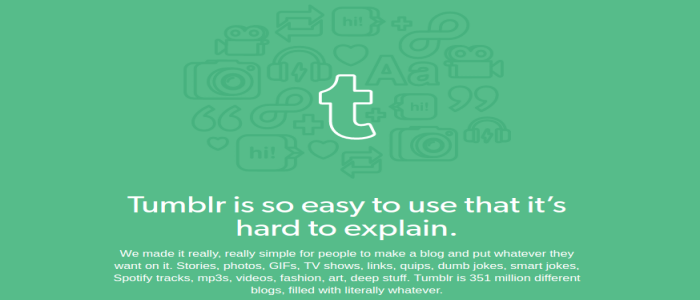 Tumblr is a little different from other blogging platforms in our list. It's basically a microblogging platform that allows you to post short blogs. You can't expect Tumblr to let you post the big articles. Tumblr is quite social-friendly with the options to follow other blogs, reblogging, inbuilt sharing tools and much more.
If you want to post some really comprehensive content, then Tumblr is not for you. It's for microbloggers looking out to produce short articles with well organized social sharing features.
Pros of choosing Tumblr
It's free to use.
Easy to setup and start on the go.
You will get ultimate storage with Tumblr You have the option to choose from a large number of themes.
You can access the HTML and CSS for customization.
It supports blog videos, GIF, images, and even the audio formats.
Cons of choosing Tumblr
A limited set of features that cannot be extended as your blog grows.
Themes have good design but they cannot provide any additional feature.
It's difficult to import from Tumblr to other blogging platforms.
Limited options to monetize the blog.
Price: It's free.
5. Wix

Wix is one of the hosted blogging platforms that has both the free and paid options. It's more like a hosted CMS that can build websites in a short span of time. It's the best way for small businesses to build a website without a need to have any technical coding knowledge. Just use the drag and drop to build your website.
To have a blog on your Wix website, you will need to install the Wix Blog app.
Pros of choosing
Wix There are dozens of templates and third-party apps available for customization.
An easy way to build your website with a blog.
Quick and easy setup. Unlimited bandwidth.
Option to register your own domain name by paying some amount.
Up to 20 GB of storage.
Cons of choosing Wix
It could be more expensive to avail the paid options.
More expensive than a self-hosted blog like WordPress.org.
Limited options to customize the blog.
Not a standalone blogging platform; you need to install an app to get the blog features.
Price: The starter plan is free. However, to use personalized features like custom domain name etc, you will need to pay around $4.50/month. There are other plans starting from $8.50/month up to $ 24.50/month.
6. Joomla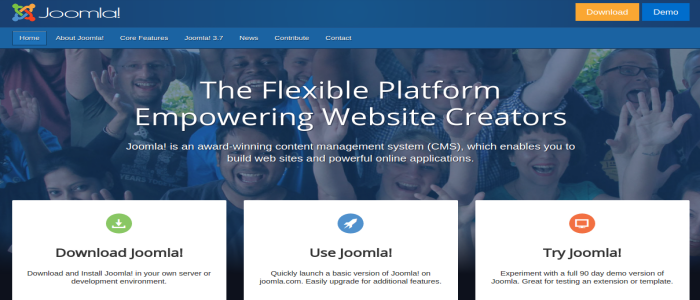 Joomla is a self-hosted software content management system similar to WordPress.org. You will need a domain name to host your website on a web server and make it live. Joomla is one of the most popular CMSs that also supports the Joomla extensions to add the eCommerce site features.
Pros of Choosing Joomla
You will have your own blog hosted on the web server of your choice.
It's flexible to adopt any level of customizations.
It can scale its competence as your blog grows.
A decent number of Joomla modules, apps, and themes are available to customize your blog.
Cons of choosing Joomla
It does not have a very large community of users.
Limited Themes and Apps; you might have to go for custom applications which are costly.
Paid support is costly.
The only best option left is the community support.
Since it is a self-hosted solution, you will have to spend on website hosting.
Moreover, you are responsible for taking regular backups and keeping an eye on the website security.
Price: The platform is free to use. However, you will need to spend on domain name and hosting services.
7. Drupal

Drupal is a self-hosted type Content Management system with built in blogging features. It's one of the top platforms used to build huge blogging sites with an active management of a large community of users. Though it's 10 times less popular than WordPress, it doesn't mean its less efficient.
Pros of choosing Drupal
It's self-hosted so you have the freedom to host your blog on your desired web-server.
The highly active community is always ready for support.
You have a large number of free Drupal modules and themes contributed by the community members.
Built in SEO friendly features.
The best solution to build large websites with a huge community of readers.
It's robust and has a enterprise level security.
It's scalable from small to huge blogging sites.
Cons of choosing Drupal
You are largely dependent on free Drupal modules and themes.
It's costly to customize a Drupal site, as there are not many Drupal developers.
Due to a large number of features and functions, it's not very easy to use.
You might need a Drupal developer by your side to run your blog.
The cost of maintenance is higher than other platforms.
Price: It's free to use.
To Conclude
The comparison declares WordPress as one of the best options you have for starting your blog. It's easy to use, flexible, and have a huge community support. The best thing that makes WordPress best is the availability of massive WordPress plugins for every requirement.
On the other hand, I have also found Drupal not less than WordPress in any functionality and feature aspect. However, it is less user-friendly but the best option to build huge websites scalable to any level. This is where Drupal outperforms WordPress. Perhaps there are not many websites that intend to get themselves scaled to a massive level at the later part and acquire a massive website traffic from the community of users.
Blogger is quite a good option for non-professional blogging with a shared domain name. However, Google does provide the monetization options through AdSense Ads. I think Blogger would be a great choice for free blogging sites.