5 OpenCart SEO Tips to Boost Your Rank on Google
Posted by Nitin Jain / December 9th, 2022 / No responses
Search Engine Optimisation is considered one of the most effective ways to gain organic customer traffic. Not only SEO helps a business to increase overall traffic but also helps to gain traffic from various sources. Thus, following the same reason, it is important to work thoroughly on SEO for your eCommerce business. If you are an OpenCart eCommerce merchant and looking for a starting point, the following article is going to help you.
What is OpenCart SEO and how does it work?

Search Engine Optimisation in OpenCart works differently with OpenCart stores than with any other eCommerce platform. Along with meta tags, meta titles, and meta tag descriptions, you are going to need a lot more to boost the SEO for your OpenCart online store. Thus, before starting with the same, let's dive into the factors that play an important role in OpenCart SEO.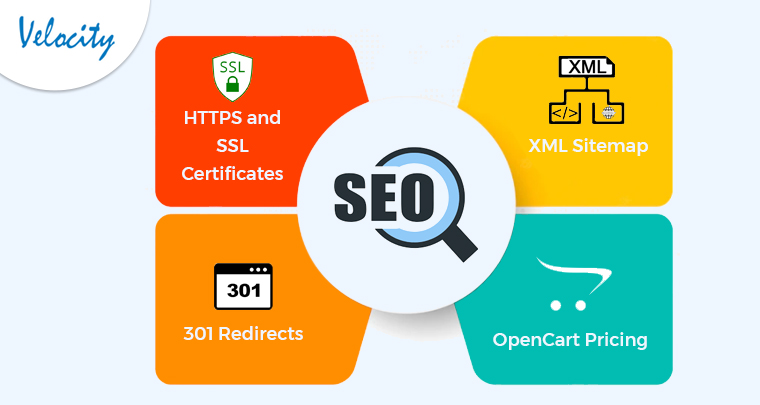 1. HTTPS and SSL Certificates:
For getting HTTPS attached to your OpenCart eCommerce website, you are going to need to obtain SSL certificates. Once after installing SSL certificates on your store, you will be eligible to use HTTPS along with your store URL.
2. XML Sitemap:
OpenCart sitemap helps Google and other search engines to identify your website and helps in ranking.
3. 301 Redirects:
The 301 Redirect module helps OpenCart store owners to manage the changes URL. An instance when a user will hover from one page to the next page, the 301 redirect Module will register the old and new URLs.
4. OpenCart Pricing:
OpenCart is a PHP-based eCommerce management system. Moreover, if you want to download and install OpenCart, the platform is free to use. However, if you want to launch an online store using OpenCart, you will have to pay nominal charges.
OpenCart SEO tips to Boost Your Ranks on Google: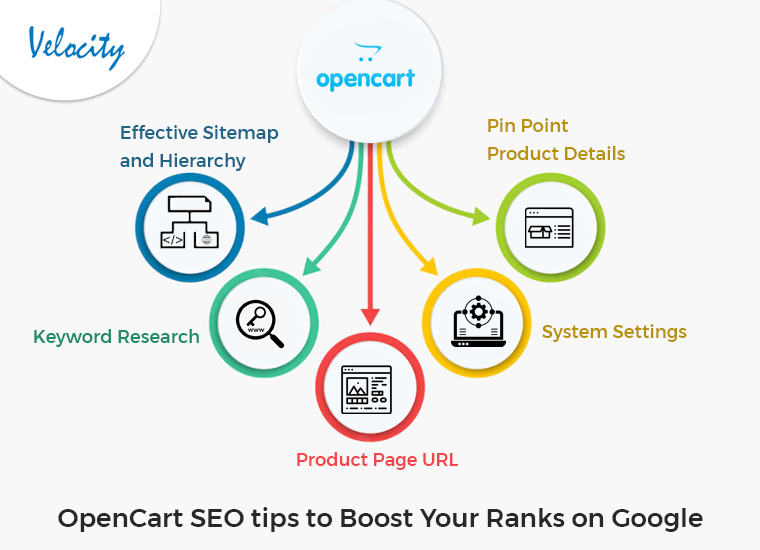 1. Effective Sitemap and Hierarchy:
A website sitemap is one of the most important factors that play an important role in SEO. Thus, while designing a website it is always an ethical idea to set up a user-friendly hierarchy for all the pages. Instance, while designing your OpenCart eCommerce website, you can provide a step-by-step process to make the analyzing process for Google.
2. Keyword Research:
Keywords are the main source that brings traffic to any website. Thus, for the same reason, as an OpenCart business, you should dive deep into the market for researching the most relevant keywords. For example, winning the keyword game requires thinking from the market perspective. You can use the keywords in Meta Titles, Meta Descriptions, and CTAs for making the most out of Search Engine Optimisation. Thus, if you are willing to enhance the organic customer traffic of your OpenCart eCommerce store, keyword research is going to play an important role.
3. Product Page URL:
A lengthy and unclear OpenCart store URL can reduce the chances of listing on top of the Google search result page. Thus, if your store URL is having any unnecessary texts or symbols, it's time to garnish the same.
You can follow the below-mentioned path on your admin dashboard for changing your SEO URLs.
OpenCart Admin Panel>System >Settings>Edit>Server>Yes>Edit SEO URL.
4. System Settings:
Before going for Off-page Search Engine Optimisation for your OpenCart Website, it is a must work on On page one. For example, for the very first step of the process, you can add a homepage title to represent your brand name. Along with your home page title, you can add various other crucial details such as Meta Title, Meta Tag Description, and Meta Tag Keywords.
Thus, for the initial SEO step, you can modify the following details from System > Settings > Edit Store > General.
5. Pin Point Product Details:
The next Page SEO tip for enhancing Search Engine Optimisation for your OpenCart store is to add relevant product details. For example, you can use a variety of researched keywords in your product descriptions and even in product titles. Moreover, while adding your product image, you can consider adding a space in each word by dashes.
In the End,
If you are looking for starting or enhancing Search Engine Optimisation for your OpenCart shop. The following tips are going to help you a lot. Moreover, in case you are having any sort of queries or web development, you can find us at info@velsof.com.