Benefits Of Using OpenCart Ecommerce Platform For Your Business Website
Posted by Nitin Jain / October 17th, 2022 / No responses
The competition in the e-commerce business is increasing. To reach your goals, people want to offer the best e-commerce service, you need a lot of resources. To easily create shopping carts, many individuals opt for OpenCart development.
An OpenCart Store is what?
Users can create a comprehensive e-commerce website and app without paying a penny. Technical assistance will be given in constructing e-commerce applications by a qualified OpenCart Developer.
It's a popular choice among startups and employs PHP during the development stage. since creating an online store takes less time, money, and labor. With the aid of the OpenCart shop, a variety of technologies are required to create an eCommerce platform. Some characteristics are:
It supports numerous currencies and more than 40 languages.
The platform is incredibly adaptable and efficiently aids in creating a user-friendly website.
It is simple to maintain, and running costs are considerably lower.
OpenCart comes with an easy-to-use built-in option for affiliate marketing.
It offers catalog management, allowing one product to be added at a time.
Periodic statistics on product purchases and sales trends produced by OpenCart assist in managing sales taxes.
Additionally, it offers permissions based on roles that aid in operating online e-commerce stores.
One of the best options for managing medium and small stores because it contains premade layouts.
More than 14,000 extensions and themes are available in the marketplace for the OpenCart Store.
Why is an OpenCart Store Developer needed?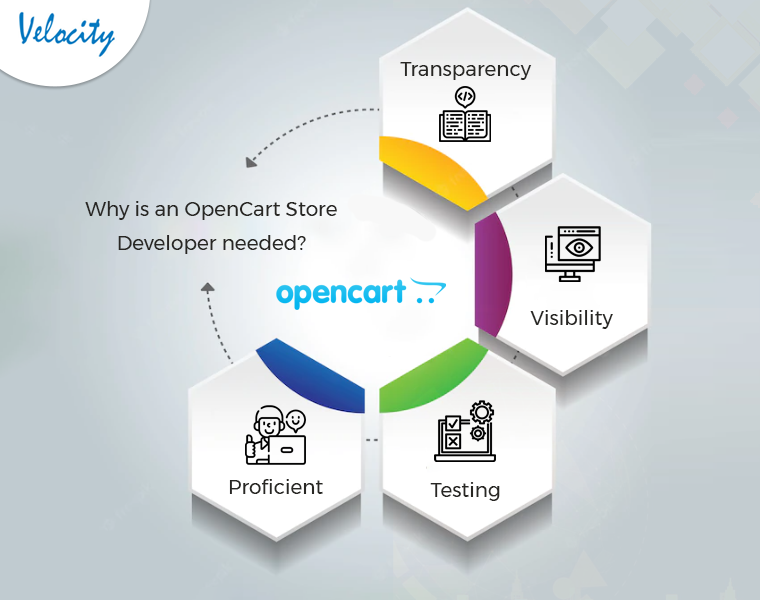 The market has more than a thousand websites and programs that can help the OpenCart store. Here are some advantages of hiring an OpenCart shop developer:
The project is managed by the OpenCart store developers uniquely. Each stage of the development of the application is visible to the clients. Customers track the development of their store and can make modifications as needed.
You can construct an e-commerce platform with the aid of the OpenCart store developers, who can also help you increase your online presence. Even after they have finished the creation process, they will give your products a significant presence.
An OpenCart e-commerce site won't ever go live without first passing rigorous testing and functional verification. The websites or applications must undergo testing after the customer requirements have been implemented. Before bringing the app to the play store, the OpenCart store developer will make sure that it has been thoroughly updated and validated.
The professionals in using the extensions and plugins to use the framework for OpenCart stores have a wealth of knowledge. They can quickly improve the app's aesthetic and feel to attract users.
Benefits of Using the OpenCart Store for Your e-Commerce Business?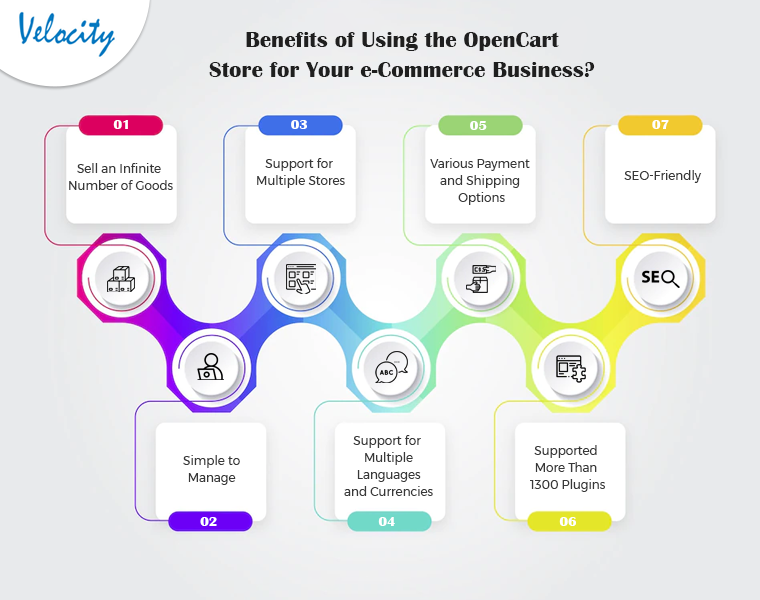 1. Sell an Infinite Number of Goods
The programmers will enable OpenCart e-commerce store owners to add countless for-sale items. This will be a big help when listing the products under different categories. You can select the product reviews and ratings as well, which will help you understand the products better.
2. Simple to Manage
It's essential to seek professional assistance if you want to create an e-commerce platform using an OpenCart store. They can manage the store's operations and guarantee a better customer experience. The admin panel makes it possible to complete several tasks at once.
3. Supported More Than 1300 Plugins

The ultimate objective of enterprises is to generate substantial returns and expand on a significant scale. Sometimes a business will start out growing slowly, but with the appropriate plugins, that might change. Modern features and functions that can be added via extra plugins are required for OpenCart E-commerce stores.
4. Support for Multiple Stores
You may manage many e-commerce platforms using the OpenCart store from a single admin panel. A single interface can be used to manage several OpenCart online stores. Users will be able to build up online stores with different themes and extensions thanks to this. The customer receives complete assistance and effortless access to the online store.
5. Support for Multiple Languages and Currencies
You can't possibly wish to restrict the sales to a specific area, right? By selling them internationally, the OpenCart E-commerce store will assist you in expanding your business. To make it simple for potential customers, certain tools will assist with currency conversion.
6. Various Payment and Shipping Options
This offers a considerable edge to OpenCart developers. Multiple payment options can be integrated with the online store. Modern technology preferences have expanded the use of online payments for small purchases. The OpenCart online store makes sure that clients receive their items quickly and securely.
7. SEO-Friendly

E-commerce platforms demand enthusiastic replies, which Search Engine Optimization may deliver. Your online store's ability to rank highly on search engines is aided by the OpenCart E-commerce platform.
Conclusion
One of the practical approaches utilized by developers to create an online store is OpenCart Development. Some of the key characteristics and advantages of the OpenCart shop have been covered in our discussion with you. With excellent built-in capabilities in this platform, it aids store owners in creating a strong online presence. Seamless user experience with a single codebase investment.