5 Trendy ideas for growing your business in 2015
Posted by Nitin Jain / January 3rd, 2015 / No responses
With increased number of people making frequent online purchases, eCommerce has been a booming industry for all those online entrepreneurs who are continuously delivering efforts to market their products. Having an eCommerce business requires lots and lots of effort to differentiate it from the crowd. Whether you are owner of a small or large sized business, you constantly need to update yourself with unique ideas to succeed in an eCommerce marketplace.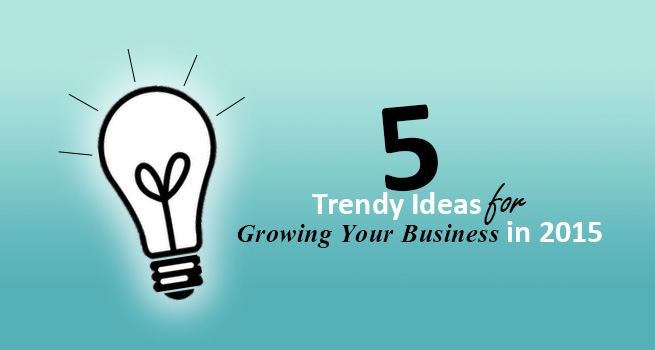 Below listed, we have assembled 5 highly practical and innovative ideas to drive efficiency and increase productivity for your online business. I hope, you won't mind giving them a look.. So, let's start:
Idea #1 API's can do a lot to nurture your online business-
eCommerce businesses of all size, be it large or small, can use API's to facilitate exchange of data for delivering information that shoppers want and businesses needs. They also function to know how retailers can send the right communications to shoppers on the right device and at the right time.
Listed below are the top API's that online retailers use in their businesses-
Site Search
Product Info
Personalization
Social Proof
Price Comparison
Shipping
Idea #2 Do not forget to personalize shopping experience
If you want to convert visitors and generate more revenue for your online business, you will have to provide a personalized shopping experience to your shoppers. Customers who prefer shopping online always look for personalization everywhere they shop and every device they use. Personalization plays a great role in improving brand awareness and boosting conversions.
Providing a digitized shopping experience across all devices is one such example that can provide users with a personalized shopping experience. Personalization brings the products and services of interest to your customer to their attention, thereby leading to accessorize a potential purchase.
Idea #3 Pay Attention To Customer Feedback
Collecting customer feedback is an important element that strengthens your relationship with the customer. It gives you a better insight by telling what exactly a customer liked and disliked about your site. There are various ways through which online merchants can avail feedback from their customers and can further implement it to optimize the shopping experience of customers. It helps you generate fresh ideas to deliver a wonderful shopping experience for your shoppers.
Idea #4 Exit Offers
By implementing this idea on your eCommerce store, you will be able to convert most of your visitors into buyers, thereby driving more traffic and conversion. Exit Popups are a decent way of converting visitors coming to your site into buyers. It helps you to target customers right as they are leaving your site. Displaying a special exit offer in the form of promotional coupon codes or discounts whenever your customer back out gives visitors a chance to complete the shopping.
Idea #5 Invest in Marketplaces
Online marketplaces are one of the greatest sources that provides businesses with unique chances of gaining success. Apart from being an additional channel for generating revenue, they function as outlets for a company's distressed inventory. By investing in marketplaces, eCommerce business owners can gain massive exposure and enhance their customer base. Online marketplaces gives you an option to market products on a global level.
The above given tested tips will not only improve conversions on your website but also it ensures customers on your site come back time and again for repeat business. So, keep trying these and give a fresh start to your business this year.