Is Hootsuite really the best tool to manage your social media accounts?
Posted by Nitin Jain / January 27th, 2015 / No responses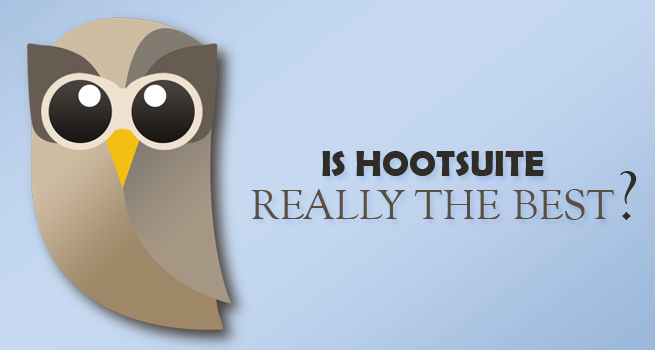 Hootsuite is a browser based social media management system which integrates with  top social networking sites like Facebook, Twitter, LinkedIn, Google+, My Space, WordPress etc in a single page.
It's multi-feature and easy to use functionality give it an extra advantage over other competitors like Spreadfast, Sproutsocial and Tweetdeck. According to the survey by monitoring tool Pingdom, Hootsuite is the most used social media management tool among world's top brands.
Let us evaluate the Pros and Cons of using Hootsuite.com
Pros:
1- Multiple Social-network support
Most compelling reason why you should use Hootsuite is it's multiple social profile accessibility. All the trending social networks can be easily integrated with Hootsuite.
Most recent Hootsuite version can access following profiles
Twitter
Facebook profiles and pages
LinkedIn profile and pages
Google+ pages
Foursquare
Myspace
WordPress blogs
Reddit, StumbleUpon, Instagram, edocr, tumblr, evernote, flickr etc
Your account plan defines the maximum number of profiles you can access. As of now,  Hootsuite offers these 3 account plans.
Free
You can manage maximum upto 3 profiles in this plan and generate 2 RSS feeds. This is the basic plan, generally used by people to manage personal profiles.
Pro
At Pro level, you pay only $8.99 and access more than 50 profiles. You can also use multiple profiles in a single network. See the compared plan details in screen shots given below-
Enterprise
This is the biggest plan and generally used by large business enterprises or government organization. It costs almost $18000 yearly and offers unlimited access.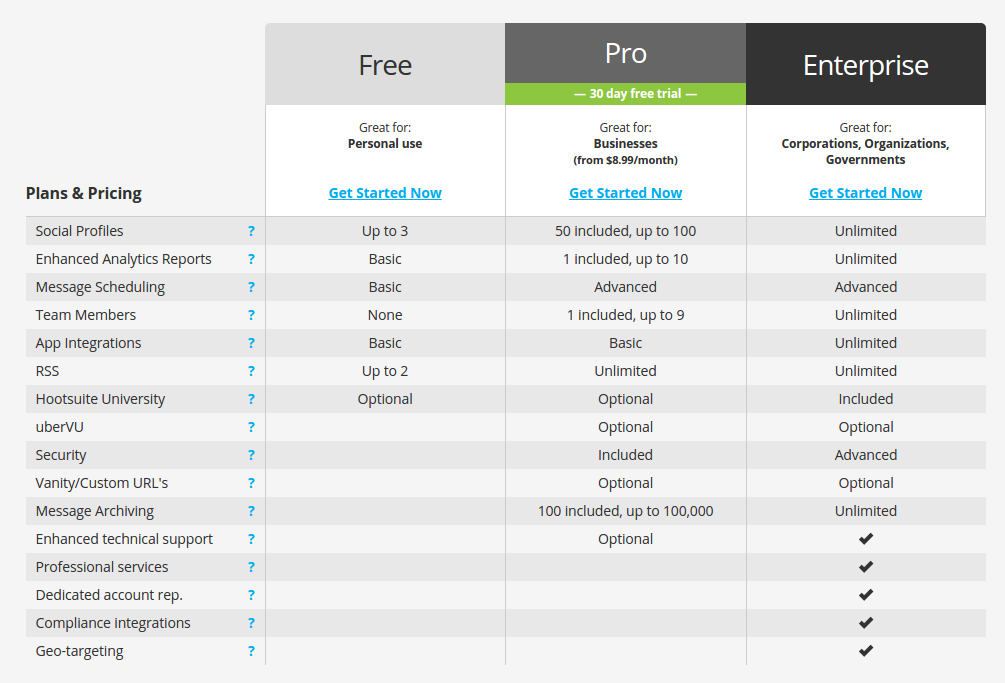 2- Organized Streams at one place
Tabs and streams allow you to analyse and manage all your post details in a single page conveniently.
We can make multiple personalized tabs like one for showing all subscribed profile details, another for showing user's business account and so on.
By Stream, you can segregate your content for a specific profile on the basis of content type like images, video, home feed etc.
3- Apps and Extension directory
Hootsuite offers a directory which provide integration of more than 100 additional apps. Like YouTube,Gmail, Salesforce, Google Drive, Sound Cloud. Through these you can send or schedule large sized files or videos on YouTube with great ease.
Hootsuites also offers free application for iPhone, iPad and Android.
4- Time Saving
Integration of multiple social media websites and handling all posts from one end is definitely going to save a lot of time of yours. You do not have to login separately on each networks for publishing posts.
5- Scheduling for future
There are times when people get busy due to some occasion, weekends or any other personal plans. Maintaining engagements on social media pages becomes quite difficult these days. Scheduling is the best gift from Hootsuite which offers easy and stress free post publishing. All you have to do is schedule your posts before time so that it gets published even when you are busy with your other engagements.
Auto scheduling is one step ahead service offered by Hootsuite where, all you have to do is to only compose a message. Hootsuite will automatically tell you the appropriate time for that message to get posted.
Cons:
1- Confusing interface
It really gets confusing to handle, when many profile, streams are open in a single page. One page layout might add an advantage for few but for me, its never easy to handle each and every profile in single page efficiently as it involves a lot effort to manage multiple activities taking place within a single tab.
2- Limited access to Free version
Basic plan offers only 3 social networks access and 2 RSS. Means that you can only use your personal profiles within free acount, that too with limited access. For any addition, you have to move to pro plan which costs $8.99/month.
3- Expensive analytic reports
Analytic reports are a must for you to get an idea whether you are going in right direction or not. It shows useful data, charts and graph that offers complete statistics of your profile.
Hoootsuite's free version offers only 2 such free reports. In case of Pro plan, you have to buy these reports from the points you get on monthly basis. Certainly there are free reports but most of them are of 45 points for which you have to pay $50 each.
4- Owly is the only URL shortener.
Many networking sites like Twitter has defined their posts in terms of character limit. So we are bound to use url shortener to convey more information within defined character limit. There are many Url shorteners available like bitley.com, SumAll, Buffer, but while using Hootsuite you are bound to use the URL shortener provided by them i.e ow.ly, ht.ly. If you use url shorteners from outside, you will miss many parameters in you analytic reports as Hootsuite doesn't track those URLs. Other option is to use customized URL shorteners by them but again that is a paid service.
I have been using several social media tools including Hootsuite from last 2 years. I can say that, all the available social media management tools have some advantage and disadvantages but Hootsuite certainly has an edge over it's competitors.