Is Negative SEO a Threat, How Can You Mark Yourself Safe?
Posted by Joe / July 29th, 2017 / No responses
SEO has evolved drastically over the time. In fact, there was a time when everyone was asking "Is SEO dead now?". Of course not, it is not dead yet, but yes, it has grown up into many branches. Organic SEO, Paid Ads, Black Hat SEO, and the latest evolution, the Negative SEO.
This article will guide you on the basic understanding of Negative SEO and will also tell you how you can stay safe from it.
Negative SEO
Negative SEO is basically a form of black hat SEO where the aim of the webmaster is to use unethical techniques to put down a competitor's ranking. A Negative SEO practitioner would do everything that it takes to sabotage the ranking of the target site. It may include:
Hacking the target site
Spamming the target site with spammy links
Copying the contents of the target site and posting them all over the internet to create duplicate content issues
Creating backlinks to the target site with spammy, irrelevant, and objectionable keywords like Porn, online Poker, Viagra, and many others.
Ruining the social reputation of the target site by creating fake social profiles and doing unethical actions through them.
Removing the useful backlinks through black hat practices.
Yes, Negative SEO is a threat
There is no doubt that Negative SEO is a threat. Yes, it completely is and you should stay aware of it. It's really tough to recover from the impact of a Negative SEO attack on your website, however, the prevention is much easier.
With a little research on the internet, you can find a large number of people ready to perform negative SEO against your rival for as low as $5. Also, if you have gone through any black hat SEO forum, you will find a great number of stories by the people who have successfully used this technique. So, yes it is a threat for sure.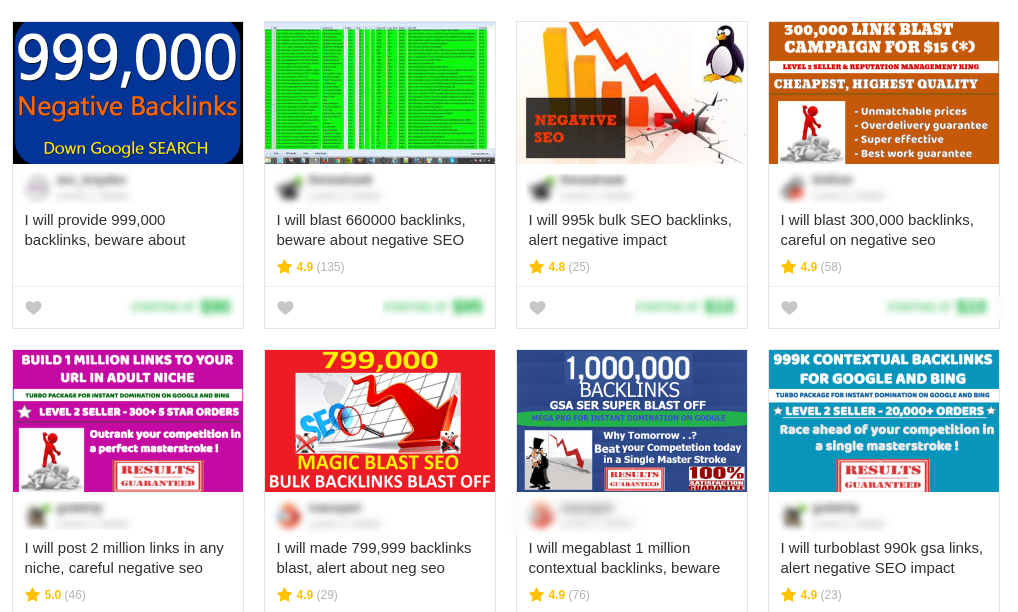 How would you protect your website from Negative SEO?
1. You should leverage Google Webmaster Email Tools alerts
Google is doing its best to fight the unethical practices and provides support to the victims in many ways. You can set up a Google Webmaster Tools email alert. Here Google can tell you via email when:
Your website is under attack by a Malware
Your website or its page are not getting indexed for some reason
Your website has connectivity problems with the server
Your website is hit by the Google's manual penalty
It's more of a Google's information system to keep you informed about important events on your website. However, the alerts can be tweaked and configured to inform you on various aspects that you can easily interpret to detect if you have been hit by a Negative SEO campaign.
So, login to your Google Webmaster Tools accounts today and setup an email alert right now. Just Login and go to "Webmaster Tools Preferences" and enable email notifications by choosing the receive alerts for all types of issues.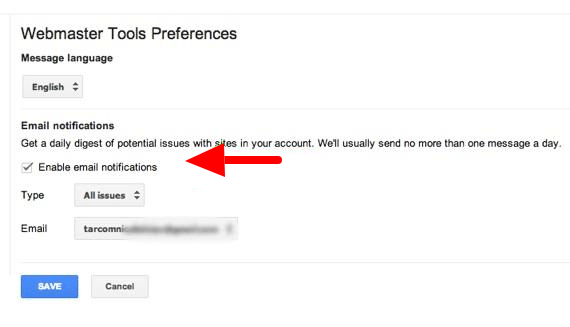 2. Keep a track of your backlinks
It is one of the most important steps in Negative SEO prevention as well as improving your current SEO. Any one with an intent with Negative SEO attack on your website will definitely target your backlinks. Most likely they will build low-quality links or redirects to your website.
Therefore it's important to keep a track of your backlinks profile and refine them from time to time. You can use the tools like Ahrefs to manually check the backlinks profile of your website. There are even tools that can automatically track your backlinks and send you alerts from to time when your website gains or loses an important link.
3. Prevent the frauds from removing your backlinks
We recently posted an article on "How Important Is Email Domain In a Link Removal Request?". Here we talked about how you should approach a webmaster to remove a backlink to your website from his.
Yes, remove a backlink. Possibly various conditions arise when your ranking gets hit by increasing number of low-quality links on your website (How to catch low-quality links on your site?). In that case, you might have to request the other websites to remove a backlink to your website from theirs. This is a standard procedure and all the ethical webmasters definitely cooperate with each other in the same. It's a crucial process as you have to be cautious and request the removal of only the low-quality links or else it might just back fire causing you to lose some high-quality backlinks as well.
The black hat or Negative SEO practitioners try to sabotage this standard relation between the webmasters. They would contact the other webmasters having backlinks to your website by impersonating as you. They would ask the other webmaster to remove the high-quality links so that you lose all the SEO gained through those good backlinks.
To mark yourself safe from this black hat practice, you should always communicate with the webmasters using the email address from your website's domain only; not from Yahoo, Gmail, or any other domain at all.
Also, all webmasters should follow this standard approach. You should never reply to or accept a link removal request coming from an email address not associated with the domain name of the website for which the request has been made.
4. Safeguard your website from hackers and Malware
Of course, you will do it. Keeping your website safe from hacking and Malware is a fundamental requirement. In fact, it is the first step you should take right after deploying your website online. (Read How can you save your Magento site from malware attacks?).
You can also use Google ReCaptcha on your website to safeguard it from spam and abuse.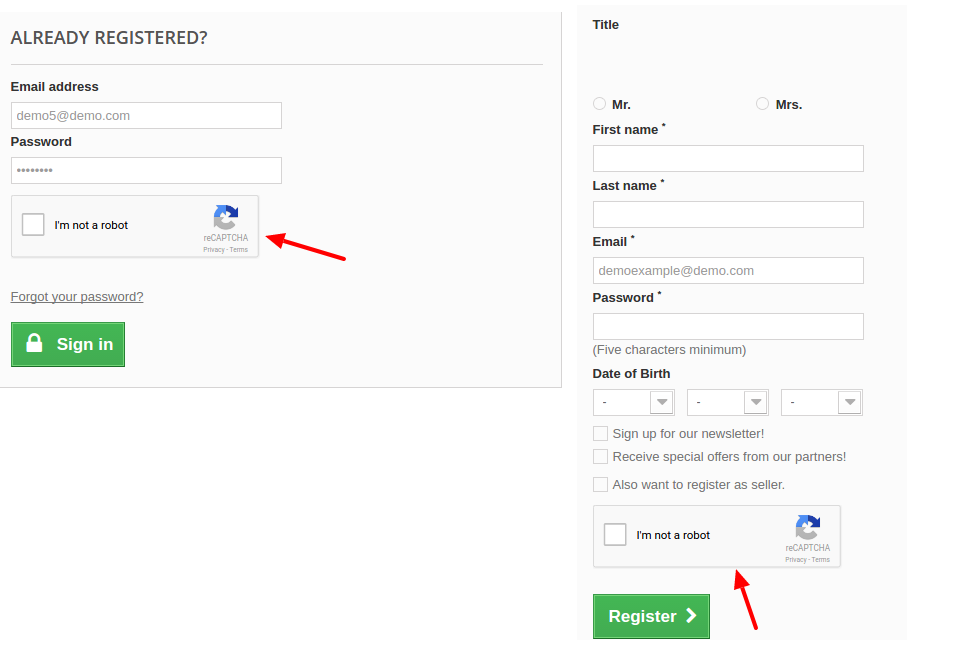 Other tips will definitely include:
Keeping strong passwords
Regularly creating back up of your database & site
Install anti-virus to prevent Malware
Get an SSL certificate
Go for a secure hosting provider
Keep your CMS updated
Use extensions from trusted sources
5. Beware of content duplication
It is one of the most common ways the spammers will try to get you penalized. The will copy the contents of your website and post it everywhere on the internet. They know you will have to face Google's manual penalty if most of your content is a duplicate.
In that case, you need to safeguard yourself by first catching the duplicate contents, and then proving that you are the original creator of the content.
You can use the Copyscape.com to check if your website has duplicate pages on the internet. Simply add your website or content and verify it on Copyscape. It will tell you if your website's contents have been duplicated somewhere on the internet. Also, you can refer to this post explaining, What to do if someone copies or steal your website content?
6. Monitor and report the Fake social media profiles on your name
Not just the SEO, rogue black hat SEO practitioners will also try to ruin your social media reputation by creating fake social media profiles and pages on your brand's name. They would perform everything with those profiles that can hurt your brand name and image.
Try to catch all the fake social media profiles on your name and report them before they get succeeded in their rogue objectives. There are various tools available in the market to catch all the social media mentions of your name. You can use these tools to catch the mentions and then check if it's from a fake profile or just a regular mention. Moreover, try to get your social media profiles verified as soon as possible.
7. Watch out for DDoS attack
If your website is suddenly experiencing a speed bottleneck and loading insanely slower, make sure someone is not sending massive spam requests per seconds to jam your server. You need to act fast as it might be a DDoS attack that would hurt a lot.
To prevent such spam attacks ensure that your server is well prepared and also you can use the Google Recaptcha to safeguard up to a great extent.
Stay on the safe side
There could be three main reasons for why someone will attack you with Negative SEO: Just for fun, For Revenge on you, or to outrank your competitiveness in the SERPs.
You can't do any thing for the one doing it for Fun. While you can prevent the other two reasons by not making enemies. Even for competition, most of the website owners will not resort to Negative SEO against you, if you do not give them a reason to take some revenge against you.
So, be polite with your customers and other webmasters you encounter in the online world. Especially with your customers, always be ethical and professional with them, you never know when you might make an enemy unknowingly. Resort to ethical SEO practices and keep the SEO from your side at least as stainless.