How to write an engaging Blog Post?
Posted by Joe / August 24th, 2018 / No responses
The movie Ratatouille was quite a remarkable products where Chef Gusteau said, "Anyone can cook, but only the fearless can be great". Well, when applied to writing an engaging blog post, it means out to be – "anyone can write a blog, but only the ones who are passionate would make it to the top".
Your blog is probably one of your most valuable aspects when you talk about marketing tools. There is so much more that you can do with a good blog – impart knowledge, build trust, generate leads, build the brand awareness and more. Well, if you really want your customers/readers to rate your blog post as a worthy aspect of your website, you have to work really hard to create quality content.
Writing a genuinely engaging blog post is one of the most powerful tools when it comes to content marketing and what makes a good blog post has quite a lot of aspects. From writing a title that one cannot afford to miss to the grammar and spellings, there are numerous other factors that come together to be the characteristic traits of a good blog post.
According to Hubspot, 53% of marketers say that blogging is their content marketing strategy.
Well, having known the importance of the blogging as a content marketing strategy, this blog lays down the practical tips that would help you write engaging blog posts for your website.
Grab the attention with the title and an engaging introduction
You might or might not have paid attention to this, but choosing an appropriate title as well as the introduction is quite a tricky task. You can take up to as much as you want to settle down for a title that deciphers your content well. Well, an engaging blog post is engaging when your reader gets glued to the screen and goes on reading the blog. If the title isn't attention-grabbing, you've lost your opportunity and if your introduction paragraph doesn't click in the head of the reader, he/she wouldn't make it to the next paragraph.
In a blog by WishPond, it was mentioned that "While 80% of people will read headline copy, only 20% will read the rest. This is the hidden importance of great titles, and why getting them right is so vital to a successful blog."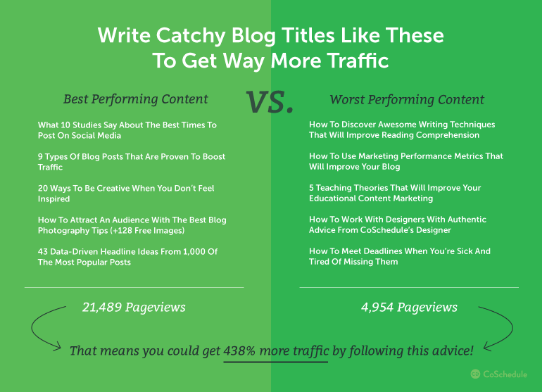 Picture credit: CoSchedule
How to write a catchy headline?
See if it catches your attention – make sure it does
Keywords are a must in the title
Don't drag the title too long – keep it short and crisp
Make sure the title and the body relate to each other
Controversial topics are hot – invest in them sometimes
Use numbers – 5 things about…, 7 tips to…, and more
Questions make good titles; and
Use power words
Break it up
The attention span of the readers is decreasing and the reasons could be anything from being busy to having preoccupied thoughts and getting lost in them. According to NN Group, only 16% of the readers go on and read the entire blog and the rest lose out the patience before that. You want your content marketing strategies to work and keep the reader continue to read what you've placed in front. You can now do that by breaking up your blog in the various ways.
How to break up a blog post?
Use shorter sentences that are easy to connect
Incorporate subheadings
Make sure to use points to keep it relatable to the reader; and
Connect the paragraphs with each other
Use bullet-points
Make an emotional connection by sharing real-life examples
Connect with your audience on an emotional level by sharing real-life experiences and examples with them. When your reader relates to what you're talking about, your reader will go on and expect more from you the next time. There are so many websites which feature blogs that are emotion based and provide ways to the others to overcome similar situations with their life examples. Readers always look for more than hypothetical examples, make sure you deliver that to your readers.
How to make an emotional connection?
Paint a picture in the reader's mind
Be a storyteller for your readers
Create memorable experiences
Create curiosity; and
Conflict is sometimes in the story
Use case-studies
Focus on a set of audience – write for them
Anything general is not relatable to anyone. One of the major characteristics of content marketing is focusing on a set audience. Your blog post cannot reach out to both young and adult at the same time. As a result, before you start writing about a relevant topic, decipher "Who the audience?" is and "Are they going to benefit from what you're writing?"
Every audience has its special needs – a fashion lover would be looking for something else while a software developer would be keen on getting to have a better knowledge at something else.
Make use of simple words
This is a huge myth that using fancy words in the blog section and makes your readers fall in love with your blogs. Readers hate it when they have to refer to a dictionary while reading a blog. They don't like it when they're bombarded with highfalutin jargon. Not only would they feel that the language is not for them, your content marketing strategy will go in the wrong direction. Moreover, your blog section would look stilted and pretentious.
So, if you really want to look good and engage your readers to your blog post, try using sensible words that are easily understood by the lay people. For example, "to utilize resources" can be shortened as "to use resources". All you should know is that easing out the language by using general words would attract more readers to spend time reading your content-rich blogs.
Promoting your posts are necessary
Only writing a good blog post isn't necessary, you also have to promote your blog. Promoting a blog post is a part of the content marketing strategies. Every eCommerce marketer understands the importance of promoting the blog posts and that's exactly what you should be doing.
This blog by Robbie Richards, his study brought in results where with only a few posts and got 831,201 page views and 25,309 social shares.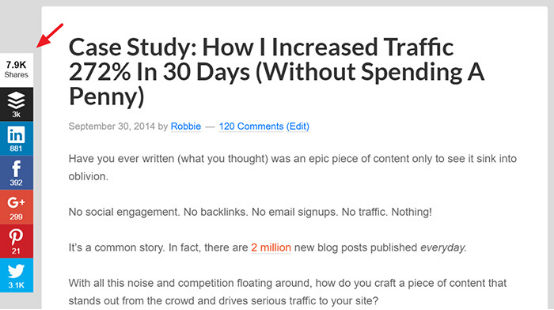 Picture credit: Robbie Richards
How to promote your blogs?
Take your content to the social media like Facebook, Twitter, and other platforms
Cross-promote with emails
Promote your content on websites like LinkedIn and other community-based platforms; and so much more.
Conclusion
Think through your content and develop engaging blog posts with the help of the above-mentioned tips. Keep in mind the content marketing strategies and create information-rich as well as engaging blogs.