E-ventures Worldwide LLC vs Google – Google wins the right to de-index
Posted by Joe / February 14th, 2017 / No responses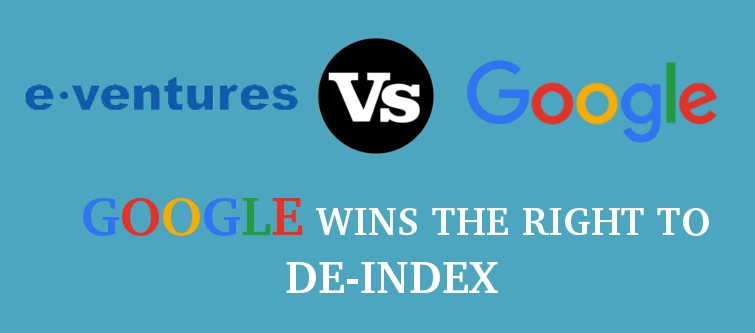 Google has finally won the E-ventures Worldwide LLC vs Google case. However, the path for this win over e-ventures was completely a different situation from what Google has faced before. History says that Google has always responded to the search engine plaintiffs by proving that its actions are always in accordance with the First Amendment speech. A similar situation arose before Google once again. A Florida based SEO service provider- e-ventures sued Google over the Google's manual removal of almost all of the e-venture's clients (websites) from the Google's index. Google justified its action by stating that the company was caught violating the quality guidelines and it was categorized as "Pure Spam".
The case became a trending topic all over the SEO world and it was termed as e-ventures Worldwide LLC vs. Google. The facts revealed from court documents said that the e-ventures was notified by Google in 2014 regarding the removal of 231 websites that were being served by e-ventures from the Google's SERPs. The company was explained the "Pure Spam" as reason.
What e-ventures had to say about the case?
The plaintiff argued that its websites were not involved in spamming and Google's action was completely motivated by anti-competitive reasons. It further argued that Google has not considered the contents on the websites and has removed all of the websites irrespective of the website were having spam signal or not. Hence it was an anti-competitive action from Google.
Moreover, e-ventures said that it has suffered an enormous loss due to the Google's anti-competitive action. So, even after continuous efforts to overcome the ban by fixing the sites, they could not make it back to the SERPs. Thus, they were intentionally forced by Google to take the matter to court.
E-ventures against Google on anti-competitive front
E-ventures Worldwide made strong allegations against Google on anti-competitive front. In courts terms Plaintiff alleges Google that SEO services that it provides to the websites reduces the Google's revenues. With Plaintiff's SEO services, if companies are successful in achieving higher rank on Google's organic listings (unpaid listings), then there is a no chance that these websites would ask for Google's paid listings and advertisements. In this way a large proportion of revenue that would have gone to Google, came in the account of SEO company. Google wants that websites pay Google to be ranked higher in its SERPs and companies like e-ventures drain this share of revenue from Google to SEO companies. Thus, Google has a strong anti-competitive motivation to eliminate the visibility of e-ventures and its websites from its search engine results.
E-ventures' argument on "Pure Spam" categorization
Retaliating to Google's "Pure Spam" reasons, e-ventures prior to September 2014, e-ventures had not made any significant changes on the websites that could have motivated Google to suddenly treat it's websites differently than they had been treated in the past.
How Google discovered about the Pure Spam?
One of the Plaintiff's statements in the case claims that on September 15, 2014, a third party having personal vendetta against e-ventures gave wrong information to Google regarding e-ventures' websites. Plaintiff claimed that it was a misleading information and it was not involved in any such activity.
What Google said?
Google argued in the Florida court that the case did not have any strong reasons to be moved forward as all of the Google's actions were completely protected under the first amendment section 230 (c). Hence, it should be dismissed. Google further argued that there are no chances that it has not made any public announcement regarding the de-indexing as it had already informed the plaintiff in 2014. But, even if Google had not made a public announcement regarding the same, the action is still valid as the plaintiff was actually violating the Google's guidelines. Thus, removal of the website's was a true communication.
The court's initial viewpoint by then-
The court dismissed the Google's evergreen arguments regarding being in accordance with the first amendment and allowed the case to be moved forward. It was a strong relief to the e-ventures and a disquieting moment for Google.
Finally, court sided with Google-
The verdict of the court said that Google has every the right to de-index the sites for the reasons complying with the first amendment. Google's win over e-ventures in court's statement were phrased like this:
"First, as Google argues, the removal of e-ventures' websites from Google's search engines is not a false statement and is thus protected First Amendment speech. There is no dispute that Google made no public announcement regarding the removal of e-ventures' websites or the reasons behind the removal. But even if Google had published a press release that e-ventures' [sic] websites were violating Google's guidelines, that publication would be protected because the statement is true. e-ventures' websites were in violation of Google's Guidelines, and thus the removal of those websites was true speech, if it was speech at all."

"But there is a more fundamental reason why the First Amendment bars e-ventures' claims. Google's actions in formulating rankings for its search engine and in determining whether certain websites are contrary to Google's guidelines and thereby subject to removal are the same as decisions by a newspaper editor regarding which content to publish, which article belongs on the front page, and which article is unworthy of publication. The First Amendment protects these decisions, whether they are fair or unfair, or motivated by profit or altruism."
The full document can be downloaded from here
Concluding,
It seemed that Google was no more free to decide the downgrade or de-indexing of the sites in its SERPs which it thinks to be "Pure Spam". It brought us to the point that Google might have to face several other plaintiffs whenever it punishes the websites and it was a big threat to Google's current modus operandi. However, it was still an assumption and the fate surely depended on the court's verdict regarding the e-ventures Worldwide LLC vs. Google case.
The verdict of this case will surely have a long lasting effect on SEO world. Google's win over e-ventures is a symbol that Google is still the most used search engine and its monopoly cannot be challenged so easily. Moreover, Google has already proven that its actions were not anti-competitive and it had strong reasons to de-index e-venture's websites as explained in the court's verdict.