Product Description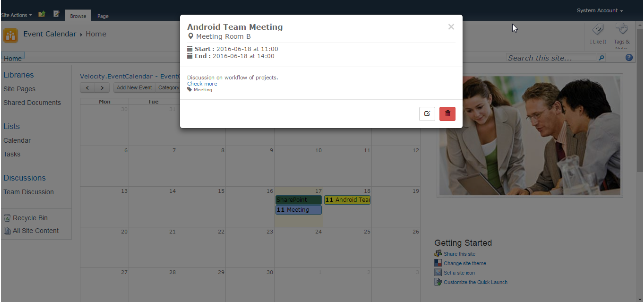 In a business environment, scheduling of tasks and events are an important and inseparable parts that need your immediate concerns. If you can't schedule your day-to- day business activities in a smooth manner, you can't achieve a significant growth in your business domain. Event scheduling is an important task that can't be ignored at all for achieving long term business goals. Being a business owner, you need to schedule events like meetings with clients, corporate presentations, seminars, get together, outdoor business engagements and much more. All this needs to be managed effectively for ensuring the high business results and growth.
This Event Calendar SharePoint web part is a wonderful development effort by our company Velocity for helping our SharePoint users to deliver maximum business results. This web part can enhance the functionality and performance of the generic calendar of your SharePoint platform to manage and schedule the various events with great ease.
How is Event Calendar a boon for your business?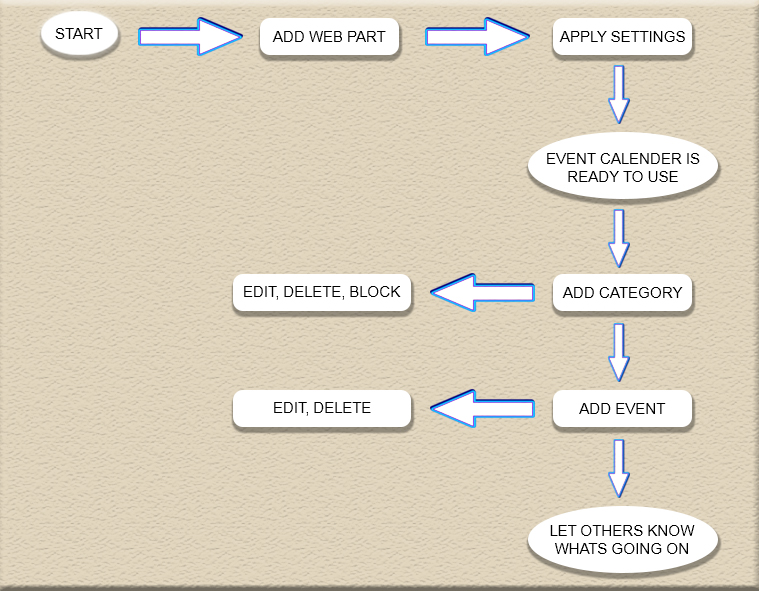 This Event Calendar web part is a revolutionizing software integration that can help you deliver maximum results with your SharePoint platform. If you are looking at taking your business to new heights, you need to take a look about how this web part can be advantageous for your business.
1. Helps in quick classification of events based on the priorities and categories that can be seamlessly recognized on the calendar due to the availability of different color code variations in multiple entries.
2. Ensure segregation of your scheduled meetings, birthday reminders, holidays, departmental events entries and other such events of your organization on the SharePoint calendar.
3. Facilitates easy browsing of multiple events and tasks which are marked on the central location with the help of a Calendar UI.
4. Provides quick preview of an event entry on your calendar through "Hover View" without any difficulty.
In case if you are having any doubt or non clarity regarding the working of this Event Calendar SharePoint web part, you can take the help of this work flow chart which is shown below:
What all can be done with this Event Calendar web part? 
This SharePoint web part has helped in improving the performance of various events in a business environment by scheduling the various events and tasks in a smooth manner. Here is a quick list of what all can be done by this Event Calendar web part.
1. Helps in creating a new Category of events by ensuring a color code to it- Understand the functionality of this feature by taking a quick look below: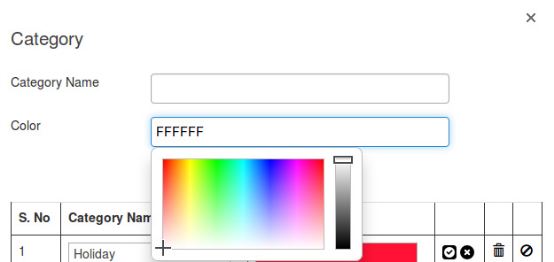 2. Addition of a new event to the calendar by providing it a category- If you want to add a new event to your SharePoint calendar, take the help from the screenshot given below: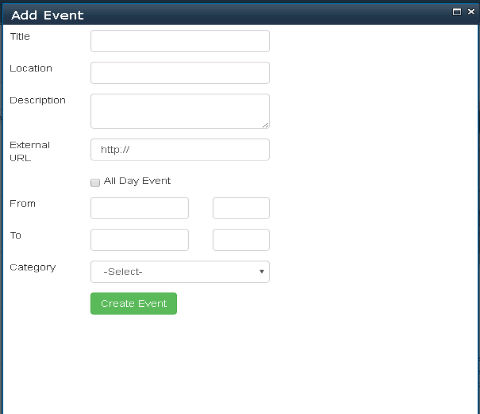 3. Easy switching between three types of views on the calendar- In order to select the multiple viewing angles for your SharePoint calendar based on a month, day or week, you need to take a quick look below:
i. Month View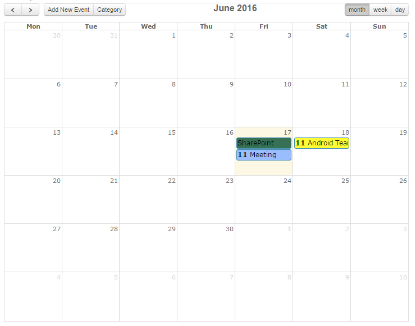 ii. Week View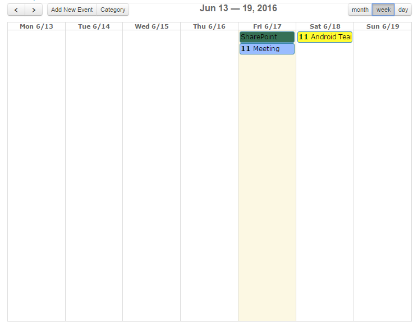 iii. Day View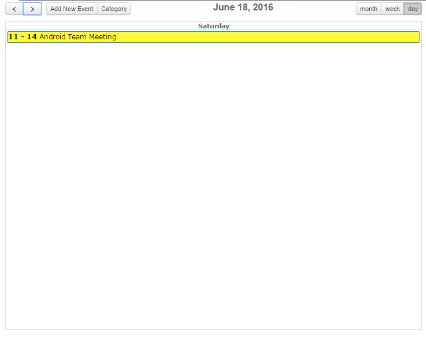 4. Provides ability to change Calendar theme- If you are looking to change the theme of your calendar from the two available themes in "Event Calendar Settings", you need to take a quick look at the screenshots which are mentioned below:
i. Dark Theme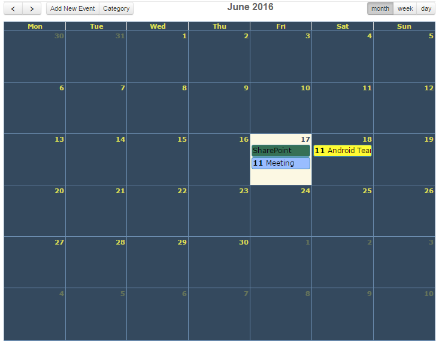 ii. Light Theme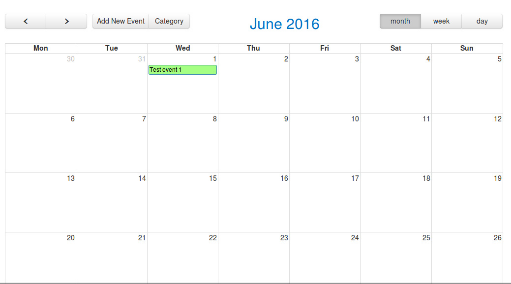 5. Ensures viewing of various events on a Central Calendar UI- Here, you can view all the events that are marked on the Calendar as a user. It shows the different events that are represented through various color codes based on the category which is selected for a particular event. It also helps in easy segregation of various event categories in a Calendar. Let us take a look at the screenshot below to understand it properly.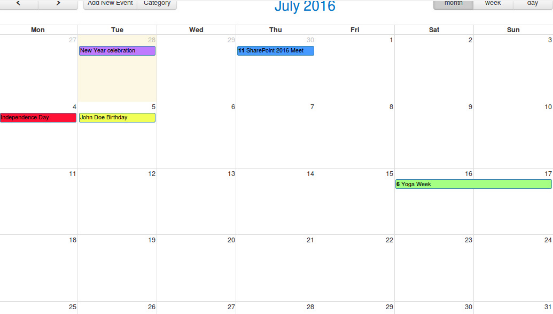 6. Showcases "Hover View" for ensuring a quick preview of an event entry- SharePoint users can have a quick glance at a scheduled event by placing their cursor on a particular event entry on the calendar. Take a insight about the same with the help of this screenshot which is mentioned below: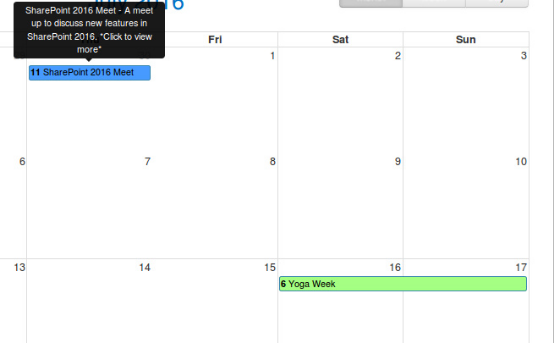 7. Provides a detailed view regarding an event entry- In order to browse a detailed view regarding an event entry, user just have to click on a particular event for the required information. Here, user can get the desired details in the form of time, location and description of the concerned event in a smooth manner.