How to use Google Analytics and Webmasters Tool- (Part-7)
Posted by Nitin Jain / March 24th, 2015 / No responses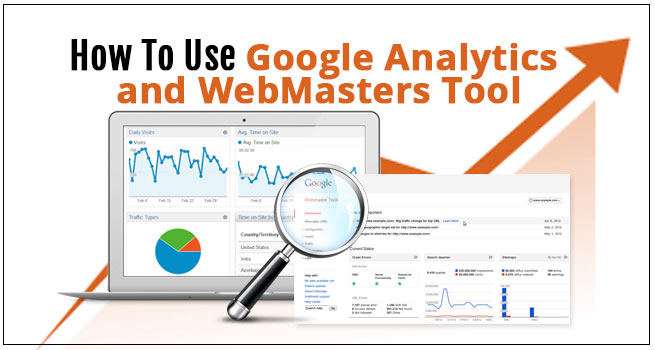 Google Analytics analyzes the quantitative and qualitative data of your website. A continous analysis of a website creates a healthy and smooth online experience for users which in turn leads to increase in number of conversions. With Google Analytics, you always need Webmaster tools. Google Analytics lets you monitor the status of your site with factors as- who is coming to your site and what are they reading whereas Webmaster Tools helps to view the entire functioning of your site by focusing on crawl issues,pages indexing and backlinks. It helps you gather information related to search query, keyword impressions, CTR (click through rate) and keyword average position.
How To Use Google Webmaster Tool-
1. Search Queries- It allows you to view keywords (search queries) along with CTR (Click Through Rate) and search impression for each keyword. With information assembled from search queries, you can view those pages on your site that were most often searched on Google. Besides, you can also view the number of times a user clicked in search results for a particular query. This is really the holy grail of organic SEO marketing. Having unique and good quality of content on your site will attract lots of visitors and backlinks. The more backlinks you get to your page, the higher your page will rank. With higher ranking it appears near to the top of search results for relevant terms contained on your web page.
Links to Your Site- This report shows all backlinks to your website. These are backlinks to your site according to Google. Google rejects a large amount of backlinks if they feel that the links were paid just for the purpose of improving page ranking.

Internal Links-

It gives you a description of how pages are linked internally. Google uses these type of links to determine the relative importance of pages within a site.

Click Through Rate (CTR)-

It shows whether any search query term resulted in a click through or not. It is quite important as you will see which pages require more work and which keywords actually work.
Query Average Position- The average top position of your site on search result pages for that query.

Search Traffic-

It is the most critical component of webmasters tools. It includes search queries, internal links and links to your website to understand and track the traffic to your website.

Manual Actions-

Here you will get message from the Google, if you are violating the Google guidelines with respect to unrelated backlinks and spamming.

Google Indexing Status-

It shows how many pages of your site are indexed by Google.
2. Crawl Errors- It displays errors that Google crawler encountered while attempting to read web pages on your site. This page is important for indentifying errors on your site. Sometimes, the errors on this page will be as simple as a timeout issue meaning the page took long to load. There are mainly 3 types of errors found namely- 404 error- (Page Not found), Access Denied and Server Error.
3. Security Issues- Occasionally a website gets hacked by nefarious individuals. It is your responsibility as a webmaster to make sure that hackers are stopped, or at the very least, any malware on your site is removed quickly. The Malware report will display a list of pages with possible malware. Check this report regularly to make sure your site is clean.
How To Use Google Analytics-
1. Audience Overview- The Audience Report gives you an overview of the number of users/visitors who have performed sessions on your website, pageviews, pages per session, average session duration, bounce rate and the percentage of new sessions. Read below to know what data you will find in each reporting section-
Demographics- Age, gender of your audience

Technology-

The browser, network and operating system of your website visitors.

Interests-

User behavior segmented by affinity and marketing category.

Pageviews-

It refers to the number of pages viewed during a specific time period.
Bounce Rate- It refers to the number of visitors who landed on the main page and returned without navigating further.
% New Visits- It refers to the percentage of visits where visitors were not tracked as having previously visited the site. Sessions are the amount of visits your site has received.
Device Overview- It shows segmentation by device category (desktop, mobile and tablet) along with engagement metrics for each.
2. Acquisition Overview- This report gives you a quick overview of the sources from where visitors are coming to your site. It shows how well each source drives conversions. Listed below is a short description of the top most sources Google Analytics uses to track your audience-
Direct- Visitors coming to your website by typing URL in their address box.
Social- Visitors coming via a social networking platform like, Facebook, Twitter, Google +, Linkedin. etc
Referral- Visitors coming to your website from any other site or by clicking a link
Email- Visitors who got to know about your site by email marketing.
3. Conversion- With Google Analytics conversion tracking, you will be able to gather data, which when added to your regular campaign gives you a conversion rate which helps you make informed decisions based on website performance.
Goal Tracking- It gives you an overall view with a quick summary of total number of goal completions made on your website. You can set goals for tracking specific URL like, /thank-you page or /success. It can be in the form of asking users to sign-up or adding product to the cart or subscribing for a newsletter and so on.
eCommerce Tracking- This report allows you to track sale, conversions rate on your eCommerce website.
So, if you are looking to improve and optimize your website by having a clear idea of what is actually going on in your site then try Google analytics and Google Webmaster tools. This brings "How To Build an eCommerce Business" blog series to an end. We hope that this series would have been quite helpful to impart you knowledge on the various do's and dont's of an online business.